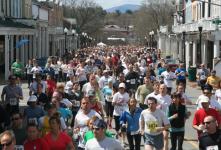 Organizers expect 1,000 to participate in April 15th races   Kingston, N.Y. - The Kiwanis Kingston Classic weekend promises to be much larger this year. Event organizers are signing up pre-registered runners at nearly triple the rate as last year. The races - the official Kiwanis Kingston Classic 10K and the 2.1-mile run/walk - have 295 runners registered so far. Last year, the event's first year back after a one-year hiatus, had 101 people registered with a month to go before the event. Participants will be coming from the Albany area, as well as Vermont, Maine, Maryland, Connecticut, New Jersey and as far away as Colorado.
Organizers expect a total of 1,000 runners this year, well over last year's total of 760. Ulster County Executive Mike Hein, in a news conference on Thursday, March 15, said the event is part of the county's Healthy Ulster County approach and an important event to kick off the warmer weather tourism season. "The Kiwanis Kingston Classic shows us that the warmer weather is here, it's time to get outdoors and get moving and active, and we at the county shift tourism gears to show everyone all that Ulster County has to offer during the warmer months of the year," said Hein, who will run in the event for the second straight year. "Every year we have thousands of visitors who come to Ulster County to enjoy a walk, run or bicycle ride in the country.
The Kiwanis Kingston Classic is a great way to kick off the season and a great way to promote both the City of Kingston and Ulster County." "The Kiwanis Kingston Classic is a tremendous event that annually draws scores of people to the City of Kingston," said Mayor Shayne R. Gallo, City of Kingston Mayor. "This year's event promises to bring many visitors to Kingston and we hope they take advantage of our fantastic restaurants, shopping and attractions that we have here." The Kingston Classic began in 1982. In its heyday during the early 1990s, the race attracted more than 1,000 entrants and finishers, including elite international runners. A year ago, the race returned after a year off with a new organizer - The Kiwanis Club of Kingston, which made it more of a community event rather than just another weekend road race. Proceeds of the event benefit Kiwanis-funded youth programs in and around the Kingston area, event organizer Greg Riley said. "I think the success we are having this year with the larger number of participants is because people are enjoying the Kiwanis Kingston Classic as a community event," Riley said. "The growth of this event certainly helps the children in the Kingston area with expanded programs and opportunities for them." "During my presidency of the Kiwanis Club of Kingston, club members voted to take on the Kingston Classic as our major project for the community," said Joe Fay, executive director at Kingston Boys & Girls Club. "I never thought it would be such a great opportunity for Kiwanis and more importantly for the community we serve. The first year we took over this event proved to be a huge success and this year we have added many new features which will just enhance this great event. Kiwanians are actively working to make sure everything is ready and we are pushing for large numbers of runners volunteers and spectators and I hope you all come out." "Last year, the Kiwanis club put on a wonderful event and the number of early entrants this year proves that people are attracted to this revitalized event," Ulster County Tourism Director Richard J. Remsnyder said. "Kingston is the place to be for a competitive spring run and as the weather continues to warm, people locally, regionally and throughout the state and Northeast will again enjoy Ulster County as a premier location for fun and recreation." Of the more than $430 million spent by tourists in Ulster each year, $10 million is spent on recreation. Ulster offers a myriad of recreational assets such as hiking, biking, golfing, kayaking, fishing, swimming and more.
The Kids' Classic starts things off on Saturday, April 14. Sponsored by the YMCA of Kingston, there will be racing categories for children ages pre-school through middle school. Entertainment, activities and awards will be part of the day's highlights. Saturday night, runners registered for Sunday's Classic are invited to carb-load by dining with their competitors. They will join fellow runners for camaraderie, pasta, music, sports expos and more.
On Sunday, April 15, the Kiwanis Kingston Classic starts at 1 p.m. at Historic North Front Street. The event ends in Dietz Stadium. The route is the same as last year's event, which is certified by the USA Track & Field. Race-day registration is from 10 a.m. to 12:30 p.m. and is $25. Pre-registration is $20.
About Ulster County Tourism
Ulster County, located less than 90 minutes from midtown Manhattan, has 250,000 of forever-wild acres encompassing 35 peaks and 350 miles of hiking trails. From biking to hiking, from kayaking to windsurfing, from hitting the sweet spot on one of our 12 golf courses to horseback riding and fly-fishing, it is truly a four-season recreation area. The county's rural vistas provide beauty for each one.
RUNNING RACES IN ULSTER COUNTY  
Competitive Fun Timed but not officially sanctioned or certified USATF events.
March 18 Shamrock Scramble
Wallkill Firehouse, Central Avenue, Wallkill NY   Registration 8-9 a.m.; A free continental breakfast is available for registered runners and walkers following their race. Event sponsored by Walkill Federal Valley Savings & Loan Association.
April 1 HITS 5K For the United Way
HITS Showgrounds, 454 Washington Ave. Ext., Saugerties, NY 5K run, 2-mile walk, and 1 mile Kid's Fun Run throughout HITS Showgrounds and Cantine Field. 11:45 a.m. registration; 1:15 p.m. run/walk; 1 p.m. Kids Fun Run. Awards and prize drawings.
April 22 Ray's Run 4-Mile Run/2-Mile Walk/Kids' Fun Run
Dietz Stadium, Kingston, NY 11:30 a.m. registration; 12:30 p.m. run/walk, 1:15 p.m. kids' fun run; For Race Info: 845-339-5474 ysill1@aol.com
Proceeds benefit Raymond Caddy, Jr. KHS Scholarship Fund. This is a perfect tune-up race for the Kingston Classic.
April 29 ESM Girls' Lady Sharks Lacrosse 5k Run/Walk
Eastport-South Manor Jr. Sr. High School, 543 Middle Island-Moriches Rd Manorville, NY Registration 7:30 a.m., Race at 9:00 a.m.; $20 Adults Pre-Registered, $25 Day of Race, $15 Students 18 and under.
This is a 5k Run/Walk that will benefit the ESM Jr.-Sr. High School Girls' Lacrosse Program with a portion of the proceeds going to the St. Jude's Children Hospital.
April 29 3rd Annual Spring Sprint 5K Trail Run
Shaupeneak Ridge, Poppletown Rd. Esopus, NY 10:30 a.m. start.
A challenging and technical race on the rugged trails of spectacular Shaupeneak Ridge preserve. While competing for fun prizes on one of the toughest 5k courses in the Mid-Hudson Valley, entrants will be rewarded with magnificent views of the Hudson River and Louisa Pond. Following the Race, runners will enjoy a chili lunch provided by Soul Dog of Poughkeepsie.
May 5 Huguenot Street Nursery School Community Run 5K
Broadhead Street, New Paltz, NY 9:00 a.m. start. Loop course down Huguenot Street to Main and onto the Wallkill Valley Rail Trail. Prizes, free children's run, entertainment and children's activities.
May 28 The Woodstock Races: 15K
Zena School, Zena & Sawkill Rds., Woodstock, NY 9:00 am 15K, 9:45 am 5K. An Onteora Runners Club Grand Prix event, the race boasts scenic and challenging courses, post-race refreshments, age-group awards.   June 16 Treetops to Rooftops 5K Walkway Over The Hudson, Highland, NY 9:00 a.m. This Mid-Hudson Road Runners Club race over goes across the Walkway Over the Hudson, a steel cantilever bridge spanning the Hudson River between Poughkeepsie, New York on the east bank and Highland, New York on the west bank.
June 17 New Paltz Challenge; Father's Day Half Marathon & Family 5K
Water Street Market, New Paltz, NY 6-7:00 a.m. registration; 7:30 a.m. Half Marathon; 8:00 a.m. Family 5K. Clock-timed with water stations, mile markers, post-race refreshments and age group awards. For information: http://www.newpaltzchamber.org/pages/Event7.php
October 8 Hudson Valley Rail Trail 5K Race/Walk
75 Haviland Road in Highland, NY The Hudson Valley Rail Trail Association is hosting a 5K Race and Walk celebrating National Trail Running Day. For more information or an application, please contact Vince at VVeltre@townoflloyd.com. The Race will begin at 75 Haviland Road in Highland, New York, proceed westward to the mid-way point, and return to 75 Haviland Road.
November 22 8th Annual New Paltz Turkey Trot: 5K Race, Walk and Fun Run
8 a.m. Registration and packet pick-up; 9 a.m. Kids ½ mile Fun Run (10 and under); 9:30 a.m. Turkey Trot 5K race, fun run, & walk; 10:30 a.m. (approx.) Awards Ceremony. Race starts and ends at Water Street Market, Main Street, New Paltz, NY 12561.
USATF Certified or Sanctioned   April 15         
Kiwanis Kingston Classic & Kids Classic
USATF Certified # NY08066JG Dietz Stadium, Kingston, NY. April 14: YMCA Kids' Classic. Racing categories for children ages pre-school through middle school with entertainment, activities and awards. Saturday night: Runners registered the Classic are invited to carb-load with competitors. April 15: 10k Kingston Classic and the 2.1-mile Fun-Run. A 10k team challenge; Fun zone competition.
June (Date TBA) Summer Solstice Run - 15K Trail Race
Minnewaska State Park, Route 44/55, New Paltz,, NY 6:30 p.m. Fund Raiser for the Lou Gross Memorial Fund sponsored by the Shawangunk Runners. Starts at Lake Minnewaska and runs along incredible cliffs, circles pristine glacial lakes, and through blooming mountain laurel. This is one of the most beautiful runs, anywhere.
New Paltz Summer Cross Country Series - July
Children's ½ and 1 Mile Races and Adult 3 to 4.7 mile races over spectacular scenic courses and carriage trails. Registration 6 p.m.; 7 p.m. start for Kids; Adults immediately after.
August 19 100 Km Catskill Mountain Rd Relay
USATF Certified Course #NY02057AM Sponsored by the Orange Runners Club and the Sullivan Striders this is the only single-loop certified 100km in the US! Team Competition, Endurance Challenge, Scenic Tour. Listed in Competitor Magazine as one of the best team running races in the world.
October (Date TBA) Healthy Harvest 5k Run/Walk
USATF Certified course by Brian Cavanaugh, NY Sponsored by Walker Valley Fire Co. Ladies Auxiliary with partial proceeds to Benefit Sgt. Eddie Ryan. Walker Valley Fire House, Rte. 52 Walker Valley. For information contact Debbie King: d_king_50@hotmail.com, 845-744-5531;Tami Lutz: imat@frontiernet.net, 845-744-2107; April Grieco: algrieco@frontiernet.net, 845-744-2452; Be sure to type 5k Run/ Walk in subject box.
October (Date TBA) 4th Annual Beaverkill Mountain Road Race
(Half # NY07080JG, 5K # NY07079JG , kids fun run) 9:30 a.m. Half Marathon start. The Beaverkill Mountain Road Race consists of a challenging, hilly half marathon, 5k run/walk and kids races. The 1/2 marathon and 5 k are USATF certified. All races start and finish at the scenic Beaverkill Valley Inn in Lew Beach, NY Contact Race Director, Melissa Holden.
November (Date TBA) After The Leaves Have Fallen 20 K Trail Race Minnewaska
State Park, Route 44/55, New Paltz, NY Sanctioned by US Track and Field 11:00 a.m. Fund Raiser for Josh Feldt Memorial Scholarship Fund at Wallkill High and the Shawangunk Runners Club. Spectacular scenic course on dirt carriage trails that go around two pristine lakes at MInnewaska State Park, New Paltz NY. Course starts and ends at Lake Minnewaska.   
Extreme Races April 28 Spring Dual Against CF
Huguenot Street, New Paltz, NY 9 AM. Run 2 miles; Road Bike, 2 Miles; Run, 2 Miles. Perfect race for anyone starting to get into triathlon. The course is fast, flat and fun. Relay and kids fun race too. The kids race is free and distances will be determined based on the age groups present. The relay teams will start the same time as the individual racers. To register:
May 6 9th Annual Trooper Duathlon
In Memory of NY State Troopers Mike Kelly, Ken Poormon and John McKenna, Dug Hill Rd., Hurley, NY 9:00 AM The major annual fundraiser for the Kelly Children's Education Fund and the Ken Poormon and John J. McKenna Memorial Funds. Mike Kelly and Ken Poormon were killed in the line of duty in Ulster County, NY on May 31, 2000. Trooper and USMC Captain John McKenna was killed in combat in Iraq on August 16, 2006.
May 20 American Zofingen Duathlon and Iron ITT
Spring Farm, Mohonk Preserve, 27 Upper Knolls Road, High Falls, NY Three races on one day. Long Course Duathlon (7:30 a.m.): Trail Run: 5 Miles; Road Bike: 84 Miles; Trail Run: 15 Miles Middle Distance Duathlon (8 a.m.): Trail Run: 5 Miles; Road Bike: 29 Miles; Trail Run: 5 Miles; Road Bike: 29 Miles; Trail Run: 5 Miles. Short Course Duathlon (8:30): Trail Run: 5 Miles; Road Bike: 29 Miles; Trail Run: 5 Miles. - Iron I.T.T. Road Bike: 112 Miles. Register: http://www.cm2promotions.com/registration                                                                                                                          Photo: Mike Hein, speaking at the press conference, said he'll be running in the Kiwanis Kingston Classic for the second straight year.
###  
Contact:
Richard J. Remsnyder Ulster County Tourism 845.340.3566 rrem@co.ulster.ny.us