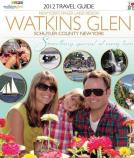 Watkins Glen, N.Y.
-- The official Watkins Glen and Schuyler County Travel Guide produced annually by the Watkins Glen Area Chamber of Commerce is here! In past years, the Travel Guide has been printed and released in the spring; but this year, it will be available beginning today - from January to December 2012. In addition to providing detailed information about the Schuyler County tourism community, the 2012 travel guide also follows the format of the Chamber's website theme, features people known throughout the community, and displays a brighter look. The chapter-like format corresponds to the Chamber's tourism and marketing brand, revealing themed sections such as: Recreation & Attraction; Arts, Culture & Experience; Hospitality; and Four Lakes Four-Season Fun. The new guide also gives a brief summary of three villages/towns located within the county (Watkins Glen, Montour Falls, & Hector). It features high-end photography, vacation planning deals/specials, website and social media references, and traveler tips. Once again, the guide includes an illustrated, pull-out map that incorporates state, regional, county and village locations and features colorful key attractions to the area as well. Each year, the guide is created and produced by the Chamber; Schuyler County's designated Tourism Promotion Agent (TPA) of the Finger Lakes region. The guide is requested and sent worldwide. The guide is accessible at the Chamber's Visitor Center and will be available to download in an interactive format on the Chamber's website:
http://www.watkinsglenchamber.com/
. 130,000 guides were printed and will be distributed over the course of the year. Hugh Keegan Associates, an advertising, marketing, and public relations firm located in Cortland, NY designed the 2012 travel guide. Vanguard Printing of Ithaca, NY printed the guide. Both businesses are members of the Chamber. Please look out for your two copies of the 2012 travel guide in the mail.  If you would like to obtain more copies, please contact Jillian Kubasik, Information and Tourism Coordinator at 607-535-4300 or by emailing
jillian@watkinsglenchamber.com
.
###
Contact
: Nikita Hairston, Director of Tourism and Marketing
nikita@watkinsglenchamber.com
  607.535.4300