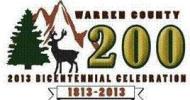 Lake George, N.Y. -
During the Organizational Meeting of the Warren County Board of Supervisors, incoming Chairman of the Board, Kevin Geraghty, formally announced the commencement of the Warren County Bicentennial Celebration. Mr. Geraghty noted it was a significant and historic time for the County of Warren as well as the Town of Warrensburg, which was also celebrating 200 years. Acknowledging the Bicentennial Citizens Advisory Committee, Mr. Geraghty introduced its members including the Warren County Historian, Ann McCann. Ms. McCann opened her remarks by introducing the Commemorative Bicentennial Magazine, which includes a detailed history of Warren County, each individual community, the important people of each community, and the names of those who worked so diligently to record County history. 60,000 free copies of the commemorative magazine, produced in cooperation with
The Post Star
, will be provided to each municipality for local distribution. Upcoming Bicentennial events begin with the recognition of the 200
th
Anniversary of the Town of Warrensburg on February 15
th
.  On March 12
th
church bells around the county will ring in unison at 2:00 p.m. as part of the "Ringing of the Bells" to celebrate the actual day that Warren County was officially formed. These and a host of other events throughout the county can be found on the Bicentennial website
warrenny200.org
In conclusion, Ms McCann thanked the Citizens' Advisory Committee for all the work they have done to bring the Bicentennial celebration to fruition. She then presented Chairman Geraghty and members of the Board of Supervisors with a copy of the Commemorative Bicentennial Magazine and Bicentennial lapel pin.
* * *
The Warren County Bicentennial Citizens Advisory Committee was established for the purpose of identifying, planning and coordinating events and programs to commemorate 200 years of growth and development. Look for further announcements including parades, hometown programs,
open houses, postal cancellations, and proclamations commemorating this 200-year celebration.
# # #