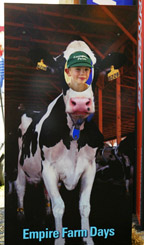 Seneca Falls, N.Y.
- The 2013 Empire Farm Days is set for August 6-8, 2013 with new attractions for all agricultural interests. This is the 26th year Rodman Lott & Son Farms has hosted the Northeast's largest outdoor agricultural show that fills 300 acres with the latest equipment, educational seminars, demonstrations, test driving and Ask the Experts opportunities. The show runs 9am-5pm on Tuesday and Wednesday, 9am-4pm on Thursday; admission is free; parking is $10 at the Seneca Falls, NY, show site.   For the dairy-minded, the 2013 Dairy Profit Seminars are focused on the next generation of young dairy operators, robotic milking technology, and how to measure, monitor and improve cow comfort. The free seminars start at 10:30am and are open to the public at the Empire Farm Days Dairy Seminar Center. The seminars are free and open to the public. Industry updates from the American Dairy Association and Dairy Council and the Beef Checkoff program, and a picnic lunch follow immediately.   On Wednesday, August 7, the 2013 class of Junior Dairy Leaders graduate with presentations of their experiences with the hands-on program for 16-to-19-year-old youth interested in learning about career opportunities in the dairy industry.   Dairy operators interested in learning more about how to comply with farm worker housing requirements can take advantage of the new mini-seminars on farm labor offered by the New York State Department of Labor daily at 10am, 11am and 2pm. New York State Agriculture Labor Specialists Parker Filer and Laura Tramontana will also address how to use forms developed specifically to assist agricultural employers in complying with New York's Wage Theft Prevention Act.               New product exhibits will feature everything from one-piece group hutches for calves and a natural fine-texture agricultural lime for balancing soil pH to cover crop seeders, large capacity mixing wagons, LED lighting, and the latest in smart remote control technology.   Those interested in farm and home-size wind energy opportunities can see turbines on display and attend daily information presentations at the Wind Center.   Cattle handlers will want to stop by the 11:30am daily demonstrations by Cornell University Beef Extension Specialist Dr. Mike Baker, who will be working with the latest equipment and demonstrating the farmer-developed Bud Box method for directing cattle into chutes and pens. The NY Beef Industry Center is also adding clipping demonstrations this year.   The new Alpacas: From Start to Finish exhibit will have live animals, spinning and weaving demonstrations, and finished products made with the luxurious fiber.   The three exciting Equine Center round pen presenters for 2013 are wild Mustang trainers Emma and Jack Minteer, draft breed horseman Dave Ayers, and natural horsemanship instructor Stasia Newell.   McCadam Cheese made in Chateaugay, NY and available for tasting at the Agri-Mark booth will be joined by samples of Cabot Cheese with its new brand logo recognizing its New York farm family owners.   The Beikirch's Outdoor Sporting Center is more than doubling in size with the latest sporting equipment and safety information for boating, fishing, and hunting enthusiasts.   Popular returning exhibits at the 2013 Empire Farm Days include therapy dog Sparks demonstrating fire safety in the NYS Grange Family Center each morning, ag plastics recycling and goat care demonstrations, the FFA student tractor driving safety and welding contests, and the daily Old Iron tractor parade.   New York Sea Grant and US Coast Guard Auxiliary will be in the farm pond demonstrating life jacket and canoe/kayak safety measures.   The annual Ag Leadership luncheon on Wednesday will recognize New York's Agricultural Environmental Management Award and Empire State Potato Growers Scholarship winners, and provide a New York Farm Viability Institute update on cutting edge research taking place on New York farms. The Junior DAIRY LEADERS graduate on Wednesday at 1:30pm.   Empire Farm Days features 600-plus representatives of agricultural institutions and organizations. Learn more at
http://www.empirefarmdays.com/
or contact Empire Farm Days Manager Melanie Wickham at 877-697-7837,
mwickham@empirefarmdays.com
.
###
MEDIA CONTACTS:
Empire Farm Days Manager Melanie Wickham, 877-697-7837,
mwickham@empirefarmdays.com
EFD Publicist Kara Lynn Dunn, 315-465-7578,
karalynn@gisco.net