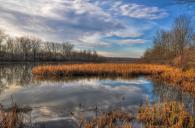 Winning images to be featured in 2014 calendar
Waterford, N.Y. -
Twelve images that capture the beauty and character of the Erie Canalway National Heritage Corridor have been selected as winners of the 2013 Erie Canalway Photo Contest. Winning images will be featured in the 2014 Erie Canalway National Heritage Corridor Calendar and can be viewed online at
www.eriecanalway.org/gallery.php
. "These outstanding images capture the extraordinary heritage of the canal corridor and remind us what makes it worth preserving and celebrating," said Beth Sciumeca, Executive Director of the Erie Canalway National Heritage Corridor.Judges selected twelve winners from more than 300 entries. First, second and third place photographs were chosen in each of four contest categories: Bridges, Buildings, and Locks; On the Water; For the Fun of It; and The Nature of the Canal. In addition, twelve photographs received an honorable mention recognition. The
free 2014 Erie Canalway calendars will be distributed later this fall
throughout upstate New York. Locations where the calendars will be made available to the public will be posted at:
http://www.eriecanalway.org/
in November.
2013 ERIE CANALWAY PHOTO CONTEST WINNERS
Buildings, Bridges & Locks                                                        
                                   1st       Buffalo's Beacon (Buffalo), Mark Bofinger, Colden, NY 2nd     Lift Bridge on Snowy Evening (Fairport), Keith Boas, Fairport, NY 2nd     Schoharie Aqueduct Sunset (Fort Hunter),  Halldor Sigurdsson, Broadalbin, NY
On the Water                                                                              
                                   1st       Rochester Skyline at Dusk (Rochester), Dave Valvo, Rochester, NY 2nd     Kayakers on the Water (Fairport), Kathy Eichorn, Spencerport, NY 3rd      Colonial Belle in Schoen Place (Pittsford), Carl Crumley, Rochester, NY
For the Fun of It                                                                         
                   1st       Oswego Paddlefest (Oswego), Richard Drosse, Oswego, NY 2nd     Twilight in Pittsford (Pittsford), Claire Talbot, Henrietta, NY 3rd      Fishing at Sunset (Niskayuna), John Walsh, Albany, NY
Nature of the Canal                                                                   
                   1st       Nature of the Old Erie (Vischer Ferry), Karl Barth, Poughkeepsie, NY 2nd     Autumn Reflections (Canastota),  Tanya Kauffman, Canastota, NY 3rd      Sunset Swim (Onondaga Lake), Candace O'Brien, Syracuse, NY
Honorable Mention Recipients
They're Off - Hudson Crossing Park's Races (Schuylerville), Mike Bielkiewicz, Mechanicville, NY Winter Dusk on Ice (Lansingburgh),  Max Kintner, Waterford, NY Misty Morning (Waterford),  Willard Bridgham, Albany, NY  Fourth Street Bridge (Waterford), Robert Coppola, Clifton Park, NY Frozen Lock 19 (Vischer Ferry), Karl Barth, Poughkeepsie, NY Remaining Arches (Schoharie Aqueduct, Fort Hunter), Charles Szuberla, Scotia, NY Before the Storm (Oswego), Alla Sokolovskaya, Oswego, NY Whitewater Kayaking (Pittsford), Janice Esse, Fairport, NY Mary Jemison (Rochester),  Barbara Oliver, Macedon, NY Frozen Barn (Gasport), Ann Kutner, Lockport, NY Lone Hiker in Autumn (Lockport), Stephen Bye, Lockport, NY Sunset Sail Along Canalside (Buffalo), Mark Bofinger, Colden, NY
ABOUT THE ERIE CANALWAY
The
Erie Canalway National Heritage Corridor
spans 524 miles across the full expanse of upstate New York, encompassing the Erie, Cayuga-Seneca, Oswego, and Champlain canals and their historic alignments, as well as more than 230 canal communities.  Erie Canalway National Heritage Corridor Commission and the Erie Canalway Heritage Fund
work in partnership to preserve our extraordinary heritage, to promote the Corridor as a world class tourism destination, and to foster vibrant communities connected by the waterway.
http://www.eriecanalway.org/
####
Contact
: Jean Mackay 518-237-7000, ext 222
jean_mackay@partner.nps.gov