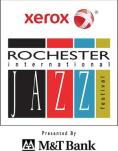 Good at 13 Club Venues for 9 Days; New Club Pass Venue Added 
Rochester, N.Y.
--- T
he Xerox Rochester International Jazz Festival's (XRIJF) 13th Edition Club Pass is on sale now at its lowest price of $174 plus service charges, a $20 savings off the regular price, until 12 Midnight December 31, 2013.  The Club Pass is an exceptional value pass, offering a significant savings over individual show tickets ($20, $25) and access to Club shows at 13 venues. Pass prices are the same as last year. The price increases to $194 plus service charge January 1, 2014 until sold out. The service charge per pass for online purchases is $6, $8 if mailed.   The fastest and easiest way to buy a Pass is online at
rochesterjazz.com
. Customers may also order Passes by phone at 585-454-2060.  Adding even more value to the Pass in 2013 is another new Club Pass venue, 'The Squeezers Rhythm & Blues Stage' at The Inn on Broadway. It will feature two shows daily with blues & R&B artists in a 500-capacity tent for all nine days.    "Our Club Pass Series venues will be in full gear daily, featuring over 1,500 performing artists from al across the nation and from 15-20 countries from around the world," said John Nugent, Producer and Artistic Director. "The Club Pass is the HOTTEST ticket in American music, offering a voyage of musical discovery, because it's NOT WHO you know, it's who you DON'T know!"    Only a limited number of passes is available.  Individual Club Pass show tickets can be purchased at the door for $20 and $25 per show. Entry to all Club Pass shows is first-come, first-served with the Pass or tickets purchased at the door. The full 2014 Festival lineup will be announced in March 2014.
13 Club Pass Series Venues in 2014!
Abilene Bar and Lounge (153 Liberty Pole Way)
Christ Church (141 East Ave)
Harro East Ballroom (155 North Chestnut Street)
Hatch Recital Hall, Eastman East Wing (433 E. Main Street)
NEW Inn On Broadway (26 Broadway)
Kilbourn Hall, Eastman School of Music (26 Gibbs Street)
Little Theatre (240 East Avenue)
Max of Eastman Place (Gibbs St.)
Montage Grille (50 Chestnut Plaza)
Reformation Lutheran Church (111 North Chestnut Street)
Rochester Club Ballroom (120 East Ave)
Unity Health System Club Pass Big Tent (Main St. & Gibbs St.)
Xerox Auditorium at Xerox Plaza (100 S. Clinton Ave., entrance on Broad Street)
About the Xerox Rochester International Jazz Festival (XRIJF)
The nine-day Xerox Rochester International Jazz Festival presented by M&T Bank was founded in 2002 and is produced by John Nugent, Artistic Director and Marc Iacona, Executive Director. Attendance at the Festival has grown each year, from 15,000 the first year to more than 195,000 in 2013, attracting music lovers from around the U.S. and the world. The Festival is presented in three series - Headliner, Club Pass, and Free Shows  - and features a diverse and eclectic performance roster of 1,500-plus artists performing in more than 300 concerts at 20 venues including 81 free shows. ###
Media Contacts
Dalmath Associates, Inc.
jean@rochesterjazz.com
amanda@rochesterjazz.com
(585) 586-6650