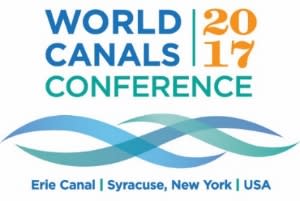 Register to hear presenters from around the globe,including John Robinson of Our Ability and Steve Dunlop of Scottish Canals
Syracuse, N.Y. (May 18, 2017) — The 2017 World Canals Conference (WCC 2017) announces its key speakers for this year's event, set to take place Sept. 24-28 in Syracuse, New York. The conference provides a world-class program that highlights some of the most exciting and innovative activities on the world's waterways. WCC 2017 speakers hail from around the globe, including experts from France, Poland, Scotland, Korea, the U.K., the Netherlands and the U.S.
Plenary speakers include:
John Robinson, founder and CEO of Our Ability and co-founder of Journey Along the Erie Canal, a ride for people with disabilities: Robinson is a 2014 White House Champion of Change for Disability Employment. He will focus on canal recreation for people of all abilities.
Steve Dunlop, CEO of Scottish Canals: Dunlop will discuss the transformative power of lowland canals and their contribution to Scotland's vibrant economy.
David Edwards-May, president of Inland Waterways International: Edwards-May is an internationally recognized waterways development consultant, cartographer, publisher and writer who will deliver the state of the world's canals.
"We welcome these innovative, creative and transformative waterway experts with open arms to WCC 2017," World Canals Conference Honorary Chair Dr. Cornelius "Neil" Murphy Jr. said. "We cannot wait to hear the perspectives of engineers, artists, historians, scientists and social change agents across the globe."
The 2017 World Canals Conference, themed "Our Vital Waterways: Agents of Transformation," will include talks on reimagining canal waterfronts, the power of water in new economies, canal restoration and heritage, celebrating and interpreting canals through public art and events, waterway engineering, recreation, the transformative power of waterway cleanup and world heritage canals.
Opening and closing speakers include:
Brian Stratton, director of New York State Canal Corporation: Stratton oversees the operation and development of New York's 524-mile canal system, including the historic Erie Canal.    
Bob Radliff, executive director of Erie Canalway National Heritage Corridor: Radliff leads efforts to preserve and share the corridor's heritage, promote the corridor as a tourism destination and foster vibrant communities connected by waterways.
Gil Quiniones, president and CEO of New York Power Authority: NYPA is the nation's largest state-owned electric utility and operates the Canal Corporation as a subsidiary. Quinioneswill share a reimagined vision for the future of NY canals and how they relate to future energy needs and sustainable communities.
"World Canals Conference inspires education, exploration and collaboration across continents, and it's an honor to be among the industry's best and brightest," said keynote speaker John Robinson, CEO of Our Ability. "Canals are an open environment and we look forward to highlighting inclusive opportunities for people with all abilities."
Exciting conference tours along the Erie Canal and connecting waterways will complement the speaker sessions and workshops. Attendees will cruise the historic canal and receive a firsthand look at a variety of structures, operations and community projects. Guests also will have an opportunity to visit Syracuse's Inner Harbor and Onondaga Lake, the city's link to today's canal system.
"World Canals Conference is the perfect venue to celebrate the rich history of canals while embracing a transformative future," Erie Canalway National Heritage Corridor Executive Director Bob Radliff said. "We are proud to host some of the most engaging speakers from the world of inland waterways."
WCC 2017 at the Marriott Syracuse Downtown is expected to draw hundreds of international delegates and thousands of local and regional residents to waterfront events. The conference will feature formal presentations, study tours of canal sites and communities, central New York dining experiences and a variety of exciting free public events.
"Having the WCC in Syracuse allows us to celebrate both the city's rich historical connection to the Erie Canal and how it transformed Syracuse and the nation," NYS Canal Corporation Director Brian Stratton said. "It's an ideal hub to explore all that the Erie Canal corridor has to offer."
Co-hosted by the New York State Canal Corporation, Erie Canalway National Heritage Corridor and Visit Syracuse, and sponsored by I Love NY, National Grid, Honeywell and O'Brien & Gere, along with many other businesses and foundations, the conference is slated to have a $2 million indirect economic impact for the city of Syracuse.
The five-day conference will be held as the historic Erie Canal, now a National Historic Landmark, commemorates its bicentennial. For more information and to register, visit wcc2017syracuse.com.
About Erie Canalway National Heritage Corridor
Nearly 200 years after its construction, the Erie Canal remains an iconic symbol of American ingenuity and determination. The Erie Canalway National Heritage Corridor preserves our extraordinary canal heritage, promotes the Corridor as a world-class tourism destination, and fosters vibrant communities connected by more than 500 miles of waterway. It achieves its mission in partnership with the National Park Service, New York State agencies, non-profit organizations, local residents, and more than 200 communities across the full expanse of upstate New York. www.eriecanalway.org
About the NYS Canal Corporation
New York's Canal system includes four historic canals: the Erie, Champlain, Oswego and Cayuga-Seneca. Spanning 524 miles, the waterway links the Hudson River with the Great Lakes, the Finger Lakes and Lake Champlain. The canals form the backbone of the Erie Canalway National Heritage Corridor and connect hundreds of unique and historic communities. Learn more at www.canals.ny.gov. Like Canals on Facebook at NYS Canal Corporation. Follow Canals on Twitter at @NYSCanalCorp.
# # #
For More Information, Contact:
Sarah Jones
585-899-3229