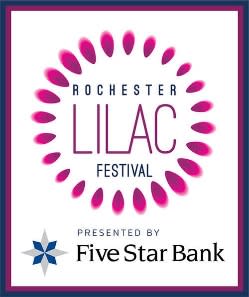 Click HERE for 2020 Teaser Roll
Rochester, N.Y. (November 21, 2019) – With the cold winter season underway, what better time to think ahead to the 2020 summer festival season's inaugural event? The 122nd Annual Rochester Lilac Festival will take place May 8-17, 2020. The festival is spreading holiday cheer with a special discount on the 41st annual Lilac 5K/10K run, taking place on the closing day of the festival, Sunday, May 17th.
Everyone wants to know what's new each year, and we are pleased and excited to announce that a brand-new event arriving in the Special Events Tent will be "The Great DuBois"; a two-person family-friendly circus show featured in Hugh Jackman's "The Greatest Showman." The show will take place on Wednesday May 13th, at 6:45pm. Tickets will be available in the upcoming weeks.
The Rochester Lilac Festival will continue to be the largest 10-day free festival, but additional special event opportunities offer the more than 500,000 annual visitors the chance to experience unique activities that keep the entertainment fresh and exciting all week long. These include the Wine Expo, Craft Beer Expo, Lilac Run, The Donut Dash, The Great DuBois, VIP Ultra Lounge and the High Spot Party Deck.
"Our goal every year is to make the Festival bigger and better with out-of-the-box ideas that bring excitement to all ages," said Festival Producer Jeff Springut. "With the dates in hand, thousands of families from across the region can start planning for their favorite activities and give the gifts of unforgettable Lilac experiences."              
What's New        
"The Great DuBois" – May 13
This family friendly circus show for all ages includes juggling, hula hoops, unicycles, aerial skills, circus stunts, contortion, magic and more. The duo is known for working with the Tony Award-winning "Pippin" on Broadway and have appeared on several late-night talk shows and concert tours.
41st Anniversary Lilac Run & Donut Dash – May 17
More than 3,000 runners from across the region come for the annual Lilac Run, a tradition that has endured for over 40 years. The Donut Dash, a half mile sprint to eat mini donuts is perfect for the kiddos & families. A portion of all race proceeds benefits Willow Domestic Violence Center. $5 off now through 12/23.
These and many Lilac traditions are made possible by the Festival's local, regional and national sponsors. Want to put your business in the spotlight? Contact Jenny LoMaglio at: JennyLo@rochesterevents.com or (585) 473-4482 to learn about available vendor and sponsorship opportunities.
About the Rochester Lilac Festival
500,000 visitors hail from Rochester, the tri-state area, and Canada to visit the Rochester Lilac Festival every year. The Festival will once again be home to exciting special events, more than 120 bands and musical acts, 320 juried arts and craft vendors, and of course, the star of the show – the largest collection of lilacs in the Northeast. 
The Rochester Lilac Festival is hosted by the Monroe County, the City of Rochester and Visit Rochester. For more information about the festival visit www.lilacfestival.com.
Rochester Lilac Festival sponsors include:  Five Star Bank, Sahlen's Hot Dogs, Recipe 21, Spurr Dealerships, Cupcake Vineyards, Nissan, Genesee Brewing, Labatt's, Pepsi, United Business Systems, Wilkin's RV, McCarthy Tents and Events, Delta Air Lines, MORE Property Management, Tipping Point Communications, Dunkin Donuts, Go-Mini's, Casa Larga, House of Guitars, UR/Highland Hospital, Trader Joe's, Absolut Elyx, CBD Best Oil, Burlington Stores, Country Inn and Suites - Pittsford, Woodcliff Hotel and Spa, Staybridge Inn and Suites – University of Rochester, Strathallan Hotel and Spa, Spectrum News, City Newspaper, Dolce Panepinto Law, Frontier Communications, YMCA. Media Partners include: WXXI, Fickle 93.3, iHeart Radio, Warm 101.3, 94.1 The Zone, WROC Channel 8.
###
Click here for Lilac Festival PROMO video.
Media Contact
Olivia Rotondo
585-899-4588