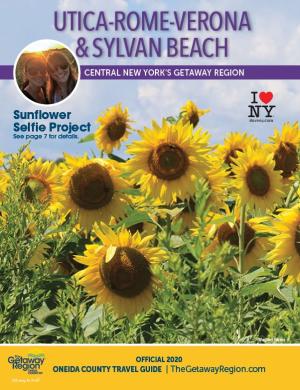 Utica, NY (March 23, 2020) — Visitors and tourists who consider a getaway to Oneida County have a newly redesigned Travel Guide to help them plan their visit. The Official 2020 Oneida County Travel Guide, designed by Jeannine Papelino of IntrexDesign and published by the Utica Observer Dispatch, is a comprehensive full color 64-page guide that highlights the places, people, and events that make the area a premier destination.
This guide is designed to capture the attention of our target audience including young families, couples, and outdoor recreation enthusiasts with impressive visuals and useful information. There are special sections for a variety of interest groups including families, foodies, art lovers, heritage travelers, golfers, fishermen, winter adventurers, sports buffs and more. The guide offers something for everyone with contemporary and historic facts presented throughout to call attention to the area's unique and interesting features. 
Beyond the all-new design, the 2020 travel guide contains a new map of attractions illustrated by Price Design, suggested itineraries for Utica, Rome, North Country, Southern Hills, and Sylvan Beach areas, an expanded calendar of events section, the Central New York Cheese Trail, new feature stories and "What to Know" call outs. 
The cover photo features Wagner Farms' sunflower fields in Rome and highlights the bureau's Sunflower Selfie Project for 2020. Visitors and residents alike will be encouraged to visit Wagner Farms mid-July through mid-September and post a selfie in the sunflower fields in support of the 100th anniversary of Women's Right to Vote! Why sunflowers? Elizabeth Cady Stanton, of nearby Johnstown, was a steadfast leader of the early women's rights movement. Stanton wrote articles under the pseudonym "Sunflower," forever making the beauty of the sunflower the symbol of women's rights.
The annual publication will be distributed throughout the Northeast and is available at Oneida County Welcome Centers located at NYS Thruway, Exit 31 and in Union Station, Utica, as well as various locations throughout the County. Local businesses should contact Shondel Washington at 315-724-7221 or email your request to info@oneidacountytourism.com for larger quantities. For an electronic version of the Travel Guide, visit our website www.OneidaCountyTourism.com.
Many thanks and appreciation to the advertisers and the Utica Observer Dispatch for continued support of Oneida County's official travel publication. 80,000+ copies of the 2020 guide were printed for distribution. Travel and tourism is economic development. Visitor spending in Oneida County topped $1.6 Billion in 2018.
###
Oneida County Tourism is a not-for-profit 501C6 organization of travel and tourism-related business members and is the official tourism promotion agency for Oneida County, New York. 
Contact:
Kelly Blazosky, President
(315) 939-9561