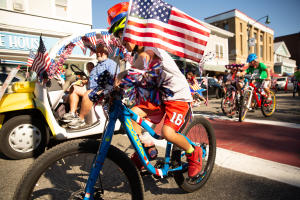 Lake Placid, NY - Lake Placid is getting ready for its spectacular 4th of July celebration, complete with a parade down Main Street and the "Set the Night to Music" fireworks extravaganza.
All are invited to participate in Lake Placid's annual July 4th Independence Day parade. Build a float, bring out that classic car, or just don some patriotic duds and march. To participate, contact Bethany Valenze at the Regional Office of Sustainable Tourism (ROOST) at 518-621-3662 or email: bethany@lakeplacid.com for an entry form. Parade announcers will recognize individual entries as they pass by Mid's Park.
Line-up for the 2021 parade will be at 4:30 p.m., and the parade start time is 5 p.m.
Lake Placid's fireworks show, "Set the Night to Music," is legendary in Northern New York. Residents and visitors alike gather to watch fireworks explode over Mirror Lake in the center of the village. Fireworks are choreographed to music and will broadcast live over Adirondack 105 and LakeFM. The show begins promptly at 9:30 p.m.
A schedule for the day will be available soon online at: https://www.lakeplacid.com/events/4th-july-celebration.
In accordance with CDC and state protocols, all COVID-19 guidelines will be followed. Currently, masks are not required for those with vaccinations. Unvaccinated adults and children should wear masks. When around large crowds, social distancing is still highly recommended for everyone.
###
Media Contact:
Janelle Hoh, Communications Coordinator ROOST
518-634-1056 | janelle@roostadk.com