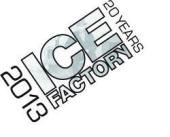 New York, N.Y.
- Artistic Director Robert Lyons proudly presents the 20
th
annual Obie Award-winning Ice Factory Festival. Ice Factory 2013 takes place at the New Ohio Theatre, located at 154 Christopher Street between Greenwich and Washington Streets in New York City. Ice Factory 2013 will celebrate its 20
th
Anniversary with six new works over six weeks, running from June 26 - August 3, 2013. Performances are Wednesdays - Saturdays at 7pm. Tickets are $18 and $15 for students and seniors, and can be purchased online at
www.NewOhioTheatre.org
 or by calling the Vendini ticket line at (888) 596-1027. For more info on the festival visit
www.NewOhioTheatre.org
, and for up-to-the-minute festival updates, follow on Twitter at @NewOhioTheatre. New Ohio Theatre will host a 20 Year Anniversary Benefit Bash for the Ice Factory Festival, titled "20 Years in the Ice Factory," on Thursday, June 20 from 7pm - 10pm on the roof of the Archive Building at 666 Greenwich Street. For tickets visit www.NewOhioTheatre.org. New Ohio strengthens, nurtures and promotes a community of independent theatre artists and theatre companies by curating and presenting new work in New York City. With its Ice Factory summer festival New Ohio offers emerging and established companies a prime forum in which to develop their work. Ice Factory prides itself on maintaining extraordinary aesthetic diversity along with an unequaled standard for intelligent, imaginative theater.
Praise for the Ice Factory Festival
"A focus on risky and imaginative new work." -
The New York Times
"The summer festival with the hippest downtown cred...Unabashedly intellectual."  -
TimeOut NY
"New York's #1 Summer Theatre Festival" -
New York Magazine
"STT's Ice Factory festival has a fine record for presenting intellectually challenging and artistically daring fare." -
The New Yorker
ICE FACTORY 2013 -
20TH ANNIVERSARY PERFORMANCE SCHEDULE
June 26 - 29
That Poor Dream
- Created by The Assembly, written by Stephen Aubrey and directed by Jess Chayes. Set entirely on a Metro-North train traveling from New York City to Fairfield, Connecticut, and drawing on the company's own complex relationship to class identity and economic disparity in American society. Inspired by
Great Expectations
, Charles Dickens's classic novel about coming of age in a profoundly class-conscious society. Stephen Aubrey is a Brooklyn-based writer whose plays have been produced at The Ontological-Hysteric, The Flea, Collapsable Hole, The Brick Theater, Symphony Space, The Philly Fringe and the Edinburgh Fringe. Jess Chayes is the co-artistic director of The Assembly. Her recent directing work has been seen or developed at Ars Nova, Joe's Pub, The Culture Project, The Civilians, P73, The Public Theater and Old Vic/New Voices.
July 3 - 6
My Machine is Powered by Clocks
- Produced by Sightline, written by B. Walker Sampson, directed by Matt Stone and Calla Videt, and choreographed by Jeff and Rick Kuperman. Imagine the day when time travel is a common thing. When a future can be seen and a past, changed. But everything is stacked upon everything else. Maybe you can escape your own time, but you may lose focus. You may even forget who you are. B. Walker Sampson's plays have been performed at HERE, Ars Nova, Dixon Place, Figment NYC and Culture Project.
July 10 - 13
Untitled Biopic Project
- Created by The Mad Ones. A hallucinatory meditation on 1960s folk rock culture and the confines of motel room 118. From the creators of the acclaimed Drama Desk-nominated
Samuel & Alasdair: A Personal History of the Robot War
and
The Tremendous Tremendous
. The final installment of their Performer Trilogy. The Mad Ones are Co-Artistic Directors Marc Bovino (performer/writer), Joe Curnutte (performer/writer), Lila Neugebauer (director/writer) and Stephanie Wright Thompson (performer/writer). Company members are Michael Dalto (performer/writer/music director) and Stowe Nelson (sound designer). The Mad Ones are currently in residence at New Ohio Theatre and IRT as part of their Archive Alliance Residency.
July 17 - 20
Help Me To Make It
- Produced by CollaborationTown, written and created by Boo Killebrew, Geoffrey Decas O'Donnell and Jordan Seavey, and directed by Lee Sunday Evans. Co-created with Lee Sunday Evans and TJ Witham. Multiple generations struggle from inside the architecture of contemporary families, as questions arise about fidelity, sexuality, gender and the myths created to help us comprehend. Personal moments of everyday existence add up to lifetimes of monumental compassion, devastating betrayal and inevitable transformation. CollaborationTown creates ensemble-driven pieces of theater that defy expectations of how stories can be told in the theater. Productions include
The Deepest Play Ever: The Catharsis of Pathos
,
The Play About My Dad
and
The Momentum
. They have won multiple FringeNYC and NYIT Awards, including Best Ensemble. They have had residencies at Robert Wilson's Watermill Center and with the Lower Manhattan Cultural Council, and are currently in residence at New Ohio Theatre and IRT as part of their Archive Alliance Residency.
July 24 - 27
Red Wednesday
- Conceived by Built for Collapse, written and directed by Sanaz Ghajarrahimi and choreographed by Ben Hobbs. Travel through 4700 years of weddings, wars, teahouses, gardens and dinner parties in this operatic multi-media spectacle that unpacks the core issues between Iran, Western and global interests. Examines the struggles and dreams of a family born into war and revolution, asking: how will we continue forward in a world consumed by fire? Sanaz Ghajarrahimi is an Iranian-American director, writer, choreographer and Co-Artistic Director of Built for Collapse. Ben Hobbs is a performer, writer, choreographer and visual artist. Built for Collapse is an "ambitiously subversive young troupe" (
TimeOut NY
) committed to building multi-disciplinary work that challenges theatrical form. Their work has been described as "sexy yet heartbreaking" (
Prague Post
).
July 31 - August 3
I Land
- Created by Anonymous Ensemble. Spend an evening on an island far from your daily lives - an island inhabited by your inner life. This meticulously crafted performance event investigates the evolution of our imagination as the audience is lead on an expedition into an uncharted terrain of commonplace fantasies and wildly improbable realities. Anonymous Ensemble engenders a new form of audience experience that encompasses the immediacy of live performance, the fluidity of film, and is profoundly interactive. They ask how the live audience can be co-creators of each performance event: in their explorations of the human condition, their collective storytelling and their commitment to the limitless possibilities of imagination. The two-time Obie Award-winning New Ohio Theatre has a twenty-plus-year history producing and presenting the most exciting, sophisticated, irreverent and boundary-busting downtown theatre. From their new home in New York's West Village, they fulfill a distinctive need in the theater community, presenting works and supporting artists who challenge the mechanics of traditional narrative to create theatre that is both deeply humane and utterly fresh. The space is accessible from the #1 train to Christopher St. or A, B, C, D, E, F or M train to West 4
th
St.
# # #
Press Invitations/Coverage Request
: 2 of 6 shows are open for review (All shows at 7pm)
My Machine is Powered by Clocks
(Sightline) - Wed 7/3 at 7pm, Thu 7/4 at 7pm
I Land
(Anonymous Ensemble) - Wed 7/31 at 7pm, Thu 8/1 at 7pm
Press contact:
David Gibbs/DARR Publicity
646-744-7200 or
mailto:DARRPublicity@Hotmail.com