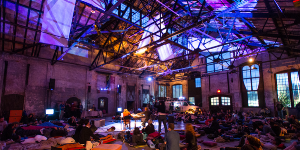 Basilica Hudson and Le Guess Who? Present: 24-HOUR DRONE: EXPERIMENTS IN SOUND & MUSIC, Saturday, April 28 - Sunday, April 29, 2018 TICKETS | WEBSITE
Hudson, NY - April 28 - 29 will mark the return of 24-HOUR DRONE: EXPERIMENTS IN SOUND AND MUSIC. An adventurous collaboration between Basilica Hudson and the Netherlands' Le Guess Who? Festival, 24-HOUR DRONE is an immersive, all-encompassing event featuring an international roster of musicians and sound artists collaborating and experimenting in electronic, psychedelic, classical, non-western and instrumental drone music to create a full 24 hours of unbroken sound.

Set in the round against the raw, industrial backdrop of Basilica Hudson's solar-powered reclaimed factory, with the spectacular Hudson River and Catskill Mountains on the horizon, 24-HOUR DRONE is the inaugural event of Basilica Hudson's 2018 season, and one which captures the multi-disciplinary arts center at its most experimental and experiential.

Drone is recognized as one of humanity's earliest and most elemental forms of music. It is essential to indigenous musical traditions worldwide and has had a profound influence on modern music. Inspired by this minimal and ancient form, the organizers of 24-HOUR DRONE strive to connect diverse musical communities and traditions by offering a localized snapshot of drone in a long-form, endurance format.

"24-HOUR DRONE is a shared experience devoted to unifying players and listeners alike," said 24-HOUR DRONE co-curator and Basilica Hudson co-founder Melissa Auf der Maur. "We aim to bring cultures together, demonstrating the diversity inherently present within all music. The cross-pollination of instrumentation, musical traditions and culture creates a tapestry of human experience, elevating the whole, greater than the sum of its parts. Diversity of sound creates a seamless sonic and communal experience, with connections and dialogues opened in unexpected ways."

International DRONES
The first 24-HOUR DRONE was held in tandem with the Le Guess Who? festival in Utrecht, Netherlands in November of 2014, before arriving stateside the following April to open Basilica Hudson's 2015 season. Previous 24-HOUR DRONE events have featured artists including SUUNS, Lee Ranaldo, Oneida, Jessica Moss, Arone Dyer, Greg Fox, Brian Chase, Noveller, Yonatan Gat and more. Organizers have also pledged an ongoing commitment to expanding the 24-HOUR DRONE concept via a series of global partnerships and collaborations. International events in Sweden, Canada the UK and the Netherlands marked 2017 as the year of DRONE satellites and allowed 24-HOUR DRONE to reach new devotees of sound, with partners including Winnipeg New Music Festival, FAT OUT and DREAM Music at Malmo Live. Additional information can be found at http://bit.ly/basilicasatellites17

Open Call for Droners
As in previous years, organizers have launched an open call for artists. With experimentation at the core of the event, organizers are firmly committed to expanding their network via this process and ensuring that 24-HOUR DRONE remains an open and welcoming platform for artists. The call invites those with a particular focus on self-contained, experimental, ambient, sustaining sounds to participate in the event. Collaborations are greatly encouraged, including first-time and previously untried projects. Artists can submit their information at http://bit.ly/DRONE18opencall.

Droner Donors
Basilica Hudson is also inviting donors to underwrite artist performances and help raise funds towards the ambitious 24-HOUR event. All contributions are tax deductible and will go directly to artist fees. Interested donors can learn more at http://bit.ly/dronerdonors18.

Tickets
Tickets for 24-HOUR DRONE are available at basilicahudson.org for $36 + fees.

ABOUT BASILICA HUDSON
Basilica Hudson is a non-profit multidisciplinary arts center in Hudson, NY, supporting the creation, production and presentation of arts and culture while fostering sustainable community. Founded in 2010 by musician Melissa Auf der Maur and filmmaker Tony Stone, Basilica Hudson makes its home in a spectacular solar-powered reclaimed 1880s industrial factory on the waterfront of the historic City of Hudson. Weekend destination events comprise the core of Basilica Hudson's music, performance, film, food and literary programming, alongside regular film screenings series, art exhibitions, and other community gatherings.

ABOUT LE GUESS WHO?
Le Guess Who?, Basilica Hudson's curatorial partner in 24-HOUR DRONE, has become the Netherlands' go-to event for experimental, collaborative and otherwise out-of-the-box musical thinking. Now in its eleventh year, Le Guess Who? 2017 was presented November 9 - 12 in Utrecht, Netherlands.

Visit basilicahudson.org for more information on this and other upcoming events this season.
WEBSITE | FACEBOOK | TWITTER | INSTAGRAM