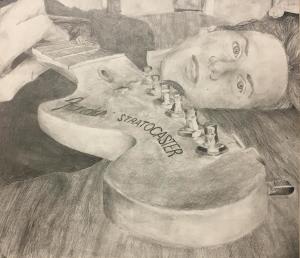 Sunday, May 7, to Sunday, May 28
Glens Falls, N.Y. — When art teacher Sue Botch sees a particularly well-developed project come across her desk at Glens Falls High School, she tells her students the work might be "Hyde-worthy."
"That's our goal; it's the thing," said Botch, who each year is among regional teachers who help students submit their art for The Hyde Collection's High School Juried Show.
From 1 to 4 pm Sunday, May 7, the one hundred finalists selected for the 26th annual exhibition and their families will descend upon the Museum to celebrate being part of the prestigious high school show. The annual exhibition is a well-known showcase of local high school students' creativity and ability.
"We always look forward to the opening of the High School Juried Show," said Museum Director Erin Coe. "It provides the opportunity to see the creative talent of our region's students, as well as the impact of quality arts education — something that was extremely important to our founder, Charlotte Hyde."
The process allows participating students from Warren, Washington, Saratoga, Hamilton, and Essex counties to prepare their works for submission into the juried show process — skills that are critical to their development as artists. "It's great experience for these young artists to go through the adjudication process and to learn how to prepare their works for exhibition," said Hyde Educator Jenny Hutchinson. 
This year, the works were chosen from a field of more than 750 submissions by a three-judge panel that included Glens Falls artist Russell Serrianne; SUNY Adirondack and Saratoga Arts Center educator Kate Patterson; and Philip Casabona, Festivals and Shop Coordinator at Lower Adirondack Regional Arts Council (LARAC). "The students didn't make it easy for the jurors; the quality of artwork submitted was really impressive," Hutchinson said. 
"I think this is probably the most competitive show (students participate in)," said South Glens Falls High School art teacher Amy Noonan. "The fact the show is held at The Hyde, which is a beautiful space and has all these significant artists also hanging there, it gives it a different level of prestige," she said.
That's part of the excitement for high schools students who submit their artwork. "It's an honorable feeling, to be able to say I got into The Hyde more than once and to have people be able to see my work," said Patricia Blair, a senior at Glens Falls High School whose work was exhibited in the High School Juried Show in 2015 and 2016. One of Blair's sculptures was named Best in Show in 2015.
Like many of the region's students, Blair remembers visiting The Hyde Collection on field trips going back to elementary school. "Just to know I was in the same vicinity as famous artists is amazing," she said. "And it's a source of pride that comes back every time you drive by."
Classmate Brooke Boucher submitted artwork last year, but wasn't selected. "It's upsetting and it makes you try harder," she said. "It's growing, it's how you get better." This year, she submitted four of her pottery pieces and three are finalists. "The Hyde is the thing I was working for," she added.
The one hundred finalists hail from Argyle, Glens Falls, Hudson Falls, Lake George, Queensbury, Salem, Saratoga Springs, Schuylerville, Shenendehowa, and South Glens Falls.
The High School Juried Show will be exhibited in The Hyde's Charles R. Wood Gallery through May 28.
Also at The Hyde
Lorna Bieber: Forces of Nature showcases eight of the artist's large-scale works. Bieber was trained as a painter, but turned her attention to photography and manipulating imagery to create photo murals and montages. Her signature works challenge notions of representation and the confines of photography. The exhibition runs through May 14.
American Artists in Europe: Selections from the Permanent Collection is drawn from the Museum's nearly 4,000-object collection, highlighting American artists inspired by their travels. The exhibition features works from Childe Hassam, Winslow Homer, Frank Duveneck, Elihu Vedder, and Leonard Freed, among others. American Artists in Europe runs through June 11 in Whitney-Renz Gallery.
What is The Hyde?
The Hyde Collection is one of the Northeast's exceptional small art museums with distinguished collections of European, American, Modern, and Contemporary art. Its permanent collection of nearly 4,000 works spans centuries and consists of paintings, drawings, graphics, sculpture, furniture, and decorative arts. The core collection, acquired by Museum founders Louis and Charlotte Hyde, includes works by such artists as Sandro Botticelli, El Greco, Rembrandt, Peter Paul Rubens, Edgar Degas, Georges Seurat, Pablo Picasso, and Pierre-Auguste Renoir, and American artists Thomas Eakins, Childe Hassam, Winslow Homer, and James McNeill Whistler. The Museum's collection of Modern and Contemporary art features works by artists including Josef Albers, Dorothy Dehner, Sam Gilliam, Adolph Gottlieb, Grace Hartigan, Ellsworth Kelly, Sol LeWitt, George McNeil, Robert Motherwell, Ben Nicholson, Robert Rauschenberg, and Bridget Riley. The Hyde Collection presents changing exhibitions in its three galleries, as well as lectures, cultural events, family activities, and school programming in its modern museum complex and historic house at 161 Warren St., Glens Falls.
For more information, please visit www.hydecollection.org or call 518-792-1761.
# # #
For More Information:    
Rhonda Triller
Communications Associate
The Hyde Collection
518.792.1761 ext. 320
rtriller@hydecollection.org
Image: Lucy Reid of Glens Falls is among the one hundred finalists selected for the 26th annual High School Juried Show at The Hyde Collection. The exhibition opens Sunday, May 7, in the Museum's Charles R. Wood Gallery