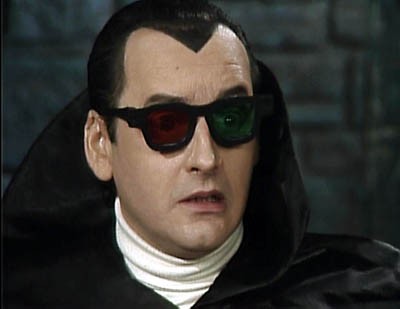 Old-School 3-D series features 1950s-style horror, suspense, Westerns
Rochester, N.Y
. - The Dryden Theatre at George Eastman House will be comin' at ya with seven 3-D classics from the early 1950s, featuring Hitchcock, Vincent Price, Westerns, and B films. The screenings take place the final four nights of August - Friday, Aug. 28 through Monday, Aug. 31 - and include double-feature and triple-feature evenings, as well as complimentary viewing glasses. "There's no denying it, 3-D movies are back in a big way," said Jim Healy, Eastman House's assistant curator of motion pictures. "While the current crop of digitally enhanced horror films or computer-animated family entertainments are attempting to show audiences something they can't get in their home theaters or watch on their cell phones, this is far from the first time the film industry has tried to put customers into seats with the promise of added depth and objects and characters 'comin' at ya' off the screen." During the final four nights of August, the Dryden will present seven complete features from the first era of 3-D, the early 1950s. Made at a time when the dawn of television presented a serious threat to studio ticket revenue, these films run the gamut in terms of budgets and genres. Each will be shown in preserved archival prints that require the simultaneous use of two projectors. This left-eye/right-eye system provides a voluminous amount of light and a vibrant image, captured on our specially constructed silver screen. The Old-School 3-D series kicks off with Vincent Price in Warner Bros. still-shocking chestnut of big-screen 3-D horror, House of Wax. To follow is Alfred Hitchcock's Dial M for Murder, also made at Warner Bros., which might still be the classiest 3-D movie ever made. Then, the Dryden brings you two programs of "B" entertainments from Columbia Pictures. First, you'll get dizzy dodging all of the arrows and bullets at the triple feature of low-budget Westerns - Jesse James vs. the Daltons, The Nebraskan, and Fort Ti - followed by an evening of 3-D film noir and Technicolor® period adventure with a double feature of Man in the Dark and Drums of Tahiti.
The films of Old-School 3-D:
8 p.m. Friday, Aug. 28
House of Wax in 3-D
Vincent Price plays the menacing Professor Henry Jarrod, in a role that would solidify his reputation as the creepiest man in Hollywood. With everything from cancan girls to rubber paddleballs to Charles Bronson's noggin' finding their way into the audience, House of Wax, takes full advantage of the novel stereoscopic process.
8 p.m. Saturday, Aug. 29
Dial M for Murder in 3-D
Certainly the classiest 3-D feature ever made, Dial M stars Ray Milland as a calculating husband plotting the demise of his rich, unfaithful wife (played with precision by Grace Kelly). Hitchcock's subtle yet effective use of the third dimension is only one of the many pleasures to be found in this tale of pre-meditation and perfect crime, as the deadly game of cat and mouse is executed with the director's characteristically ingenious employment of camera angles and props.
6 p.m. Sunday, Aug. 30
3-D "WESTERNS" TRIPLE FEATURE:
Jesse James Vs. The Daltons, The Nebraskan, and Fort Ti
In the first of these 3-D Westerns all recently preserved in dual-system prints by Sony Pictures, the legend of Jesse James is given the "comin' at ya" treatment. In The Nebraskan, six disparate characters hole up in an isolated outpost while hordes of Sioux try to pick them off. Then, colonial George Montgomery gets showered with arrows (and so will you!) when he fights the Frenchies at Lake Champlain's Fort Ticonderoga. Three films for one admission price.
7 p.m. Monday, Aug. 31
3-D "B MOVIE" DOUBLE EEATURE
Man in the Dark and Drums of Tahiti
In the first of this pair of rediscovered 3-D B-movies, film noir regulars Edmond O'Brien and Audrey Totter star in the story of a gangster who gets amnesia after having experimental brain surgery to cure his criminal tendencies - then his old gang wants to know where he stashed the loot. In the 19th-century Technicolor® adventure Drums of Tahiti, Dennis O'Keefe gets involved with South Seas gunrunners while trying to tame shrewish bride Patricia Medina...but there's some strange rumblings coming from the volcano! Two films for one admission price. Admission to each evening will be $7 general admission and $5 students and members (Please, no passes or Take-10 tickets accepted to this series.) For more information visit dryden.eastmanhouse.org or call (585) 271-3361. The Dryden Theatre at George Eastman House is located at 900 East Ave., Rochester.
###
Media Contact:
Dresden Engle
dengle@geh.org
(585) 271.3361 ext. 213