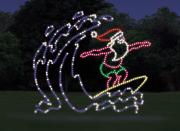 16th Annual Price Chopper Capital Holiday Lights Opens Nov. 23 in Albany
Albany, N.Y.
-- It's a time to when the world is oh, so sweet...with candy canes and lollipops, gum drops and sugar plums and bright lights everywhere. It's time for Price Chopper Capital Holiday Lights, now open in Albany's Washington Park and "A Sweet 16 Celebration." The 16th Annual Price Chopper Capital Holiday Lights is open nightly at 6 p.m.  through Jan. 4 so that people from far and near can be part of a glowing celebration -- lighting the dark winter nights and brightening children's lives all year long. The longevity of Albany's lights' show is a testimony to the community. "Most often," said Albany Police Athletic League Executive Director Sgt. (Ret.) Lenny Ricchiuti said, "A lights' show only lasts about five years in an area. The Capital Region is unique in the way it has embraced this show." Proceeds from the some 40-plus nights of the lights are used for programs for the children of the Albany PAL. "The benefits of the lights are far reaching," Sgt. Ricchiuti said. Since the first show opened in 1997, Albany PAL has grown from being able to serve about 400 young people a year to currently serving more than 3,000. "PAL is dedicated to providing youth with the support and skills they will need for all their tomorrows," Sgt. Ricchiuti said. And what's in store for those traveling the two miles of displays throughout the historic carriage paths of Washington Park? There are 125 illuminated displays and scenes that include:
Old Man Winter kicking up a storm
Frosty and Crystal kissing
Critters cavorting in the winter air
Toy Soldiers standing by the Guard House
At the end of the drive through, the Washington Park Lake House features visits with Santa (through Dec. 23), refreshments, crafts, costumed characters and lots of surprises. Admission to the Lights is $15 per car, $25 per limousine and $75 per bus. Advance-sale, discount tickets will be available through Price Chopper's Tickets to Go program at all registers. The discount tickets are $10 and are valid on Monday, Tuesday and Wednesday evenings only -- Price Chopper AdvantEdge Nights at the Lights. Also, horse-drawn carriage rides are available through Saratoga Horse & Carriage by calling
518-686-3134
. Hours are from 6 p.m. to 9 p.m. Sunday through Thursday and from 6 p.m. to 10 p.m. Friday and Saturday. The 16
th
Annual Price Chopper Capital Holiday Lights also has three special "Walking the Lights Nights" to help other non-profit organizations.  Each of the walks is from 5:30 to 8 p.m. On the first two walk nights in November, the first 250 walkers will receive a free cookie courtesy of Linda Kindlon and Bake for You, Albany. Sales of her MRE cookies benefit the Wound Warriors Project.
Nov. 20, "It's for the Kids."  Give a monetary donation or a new toy to help brighten the holidays for less-fortunate children.
Nov. 21, "Pets Walk Your People Night "and "Aid the Wounded Warriors Project." With a monetary donation to benefit the Mohawk Hudson Humane Society and Wounded Warriors, walk around Washington Park Lake.
On Jan. 5, PAL "Packs the Pantry". A monetary donation will benefit local food pantries on this last chance to walk-through the lights.
In order to produce Price Chopper Capital Holiday Lights, Albany PAL relies heavily on volunteers. "The time, talent and commitment of our volunteers -- unbelievable. We can't ever thank them enough," said Sgt. Ricchiuti. Anyone interested in volunteering themselves or as a group should contact Albany PAL at
518-435-0392
. For more information, call Albany PAL at
518-435-0392
or visit
http://www.albanycapitalholidaylights.com/
###
Contacts:
Sgt. (Ret.) Lenny Ricchiuti PH:
518-435-0392
Kathy Condon PH:
518-436-1103
CELL:
518-441-0259
E-MAIL:
mailto:kcondon@netheaven.com