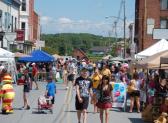 Ticonderoga, N.Y. -
The Ticonderoga Montcalm Street Partnership is pleased to announce that they will host the 5
th
Annual StreetFest in Ticonderoga on Saturday, July 27, 2013 from 10:00 AM to 3:00 PM. StreetFest is an annual celebration with sidewalk sales, arts and crafts, shopping, food, fun, entertainment as well as family & youth activities to bring people to Ticonderoga's historic Montcalm Street district. Montcalm Street will be converted into a pedestrian mall open to the public. StreetFest is a "must do" event for area residents and visitors alike.  StreetFest continues to grow and will be even bigger and better this year as the committee is dedicated to add new aspects, vendors, music and activities, to draw a larger crowd into historic Downtown Ticonderoga. "Please plan to join us and enjoy the offerings of local merchants, restaurants and a variety of vendors. We invite the community, area visitors, businesses and vendors to join us for the 5
th
Annual StreetFest. We have fantastic new aspects for StreetFest in 2013 including music all day, caricatures and full face art. You can stay up to date with StreetFest event information by contacting the Chamber of Commerce or by visiting the Ticonderoga Montcalm Street Partnership facebook page," shared Bob Dedrick - StreetFest Committee Co-Chair. StreetFest will include a variety of sidewalk sales, street vendors, food options, arts and crafts, live music and entertainment throughout the day, kid's activities, vintage cars and more. Admission to the event is free and open to the public. New this year will be professional full face art and caricatures.  Penelope the Clown will also be on Montcalm Street as well as a variety of kid and family activities. New cars and classic cars as well as other recreational vehicles will also be on display. A Farmers' Market will offer local produce and products throughout the day. Music and entertainment for StreetFest will begin at 10:00 AM and will continue non-stop throughout the day until the end of the event at 3:00 PM. Featured live entertainment will include, the Fort Ticonderoga Fife & Drum Corps, led by Mike Edson who will kick off the event at 10 AM.   As an added attraction this year the corp will be joined by visiting corps who are participating in Fort Ticonderoga's annual muster.  The Fort Ticonderoga Fife & Drum Corps will be joined by the following fife & drum corps: The 3
rd
New Jersey Field Music, Deep River Junior Ancient Fife & Drum Corp, The Fife & Drums of the Lincoln Minutemen and Hannaford's Volunteer Fife & Drum Corp. They will march down Montcalm Street, playing as they go.  You won't want to miss this fantastic start to StreetFest. Additional featured live music for StreetFest will include, Loose Connections who will play their blend of blues and rock & roll from 10:30 AM to 12:00 PM and Joe McGuiness who will play country rock music from 12:00 to 1:00 PM. Both are local well known talents from the Ticonderoga Area and have performed at a variety of venues. Ending the StreetFest Celebration will be our very own "Elvis", Jim Cawley. Elvis and his band will entertain and pump the crowd from 1:30 - 3:00 PM and will truly be the rock and roll end to the 2013 StreetFest. "A great lineup of live music and entertainment is planned for the 2013 StreetFest. We encourage area residents and visitors to come and spend the day with us. Not only will there be amazing live music throughout the day, but there will be a variety of food, vendors, sales, and activities. You do not want to miss this event," shared Darlene Treadway - StreetFest Committee Co-Chair. Maps labeling locations of vendors, merchants, food, music, fresh produce, activities and more will be available as guests enter Downtown Ticonderoga and are welcomed to StreetFest. In addition the program will include the schedule of music and entertainment. StreetFest Ambassadors who will be happy to assist you during the event will be wearing yellow StreetFest t-shirts. Montcalm Street between Lake George and Champlain Avenue will close to traffic from 7:00 AM to 4:00 PM.   All parked cars should be removed by 6:00 AM, prior to the street closure.  "There is so much to do and see this summer and throughout the year within the Ticonderoga Area.  Be sure to visit the Ticonderoga Area Chamber of Commerce website,
http://www.ticonderogany.com/
or contact the Chamber for a full calendar of events. The calendar is updated daily. We will have the details and information you need to enjoy the many events and all the Ticonderoga Area has to offer," stated Matthew Courtright - TACC Executive Director. For more information on StreetFest contact the Ticonderoga Area Chamber of Commerce at 518-585-6619 or at
chamberinfo@ticonderogany.com
. You can also visit
http://www.ticonderogany.com/
.
Ticonderoga Montcalm Street Partnership
- The Ticonderoga Montcalm Street Partnership (TMSP) is a not-for-profit 501 (c) (3) organization established in 2007. Its mission is to create and enhance the economic, historic and social development of Ticonderoga's traditional business district, employing the National Trust Main Street Center's guidelines for organization, design, promotion and economic restructuring. Meetings are held monthly and volunteers are always welcome. Like the Ticonderoga Montcalm Street Partnership on facebook to stay up to date on TMSP events, news and more. For more information on the TMSP visit
http://www.timainstreet.org/
.
###
Contact
:
Robert Dedrick & Darlene Treadway, TMSP StreetFest Committee Co-Chairs Ticonderoga Area Chamber of Commerce, TMSP Coordinator