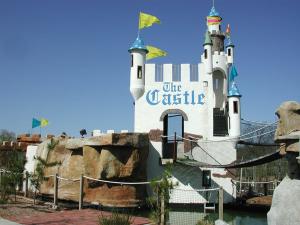 Discover family-fun at farm-to-table eateries, amusement parks, the drive-in, and more!
Orange County, N.Y. (May 6, 2021) – Family-friendly fun is in bloom all across Orange County, N.Y. this spring! With outdoor recreation options that include scenic hiking, biking, and walking trails, family fun centers, and historic sites, there's no limit to the adventures that await. For the foodies, don't miss the county's acclaimed farm-to-table (and farm-to-spirit) locations -- with many offering outdoor dining options! Plus, the areas' world-class shopping destinations and boutique shops offering one-of-a-kind items cannot be missed. The hardest question you'll have to answer is, "What should I do first?"
"The shopping, recreation, and dining experiences available in Orange County rival the landscapes' picturesque views with blooming flowers and trees," said Orange County Tourism Director Amanda Dana. "Spring is such a beautiful time of year, and we are eager for our residents and visitors alike to experience all that the county has to offer. Home to some of New York State's biggest attractions, there truly is something for everyone in Orange County, N.Y."
Below are some popular spots for family fun in Orange County, N.Y. Before visiting any of the locations, please contact the venue directly to confirm that they are open and practice safe social-distancing.
Warwick Drive-In Theater, 5 Warwick Turnpike (Route 21), Warwick.: With its history dating back to the 1950s, the Warwick Drive-In has been providing family-friendly entertainment for generations. With three screens and digital projections, locals have turned time and time again to this family-owned and operated spot. For the 2021 season, the Warwick Drive-In requires all patrons to adhere to social distancing guidelines and requires masks to be worn at all times when patrons are outside of their vehicles. Check the venue's website for a list of current and upcoming feature films. warwickdrivein.com
Bear Mountain Trailside Museums and Zoo, Bear Mountain State Park: Open year-round, this wildlife center offers four trailside museums and numerous outdoor exhibits related to the local environment. Experience a self-guided nature trail while learning about local ecology and history and taking in spectacular vistas created by geological forces over millions of years. Open daily, 10:30 a.m. - 4:00 p.m. Visitors are required to wear masks and adhere to social distancing guidelines. trailsidemuseumsandzoo.org
The Castle Fun Center, 109 Brookside Avenue, Chester: Bring the whole family for a day of thrills and adventure at The Castle Fun Center. For the 2021 season, enjoy roller skating, arcade, laser tag, a rock wall, go-karts, mini golf, the venue's Dragon Coaster, swing ride, and zip line. Face masks and social distancing are required. Open Thursday, 3:00-8:00 p.m., Friday, 3:00-10:00 p.m., Saturday, 12:00-10:00 p.m., and Sunday, 12:00-8:00 p.m. thecastlefuncenter.com
Heritage Trail, Goshen, Chester, Middletown & Monroe: Built on the former main line of the Erie Railroad, this 18-mile linear trail runs from Middletown to Harriman, winding through a bird and wildlife sanctuary, historic landmarks, murmuring streams, rolling meadows, and charming communities with one-of-a-kind shops, eateries, and more.  It offers scenic vistas as well as perfect spots for walking, biking, and rollerblading. orangecountygov.com/1475/Heritage-Trail
Sugar Loaf Arts & Craft Village, Sugar Loaf: A community of creative craftsmen and artists, Sugar Loaf is home to more than 60 artist studios, craft shops, galleries, and restaurants. Open year-round, visitors can escape the chilly winter weather by exploring the hand-made items and unique offerings at these shops, all located in the hamlet's original buildings and barns dating back to the 1700s and 1800s. The village requires proper face coverings and social distancing to all who visit its shops. www.sugarloafnewyork.com
Pennings Farm Market Grill and Pub, Route 94 and Warwick Turnpike, Warwick: This farm-based restaurant features a full menu with fresh salads, sandwiches, and burgers made with Warwick grass-fed beef and hormone-and-antibiotic-free turkey as well as local-sourced produce. Small batch, regional beer, cider, and wine are the focus of the Apple Grader Pub and Bottle Shop. A variety of craft beverages are available by the pint and in growlers to-go, while a substantial selection of craft beers and hard ciders are available on tap. The venue requires patrons to adhere to social distancing guidelines and mask-wearing while not seating at tables. Open daily, 9:00 a.m. - 9:00 p.m. penningsfarmmarket.com
As the world reopens, Orange County, N.Y., invites residents and visitors to escape, enjoy and explore its wide-open spaces. For a full list of attractions, lodging and dining options available at this time, please visit orangetourism.org/spring Additionally, a fun, free, 56-page travel guide is available for digital download at OrangeTourism.org/travel-guide.
About Orange County Tourism
Orange County Tourism, based in Goshen, N.Y., is the county's tourism headquarters and a participant in the I LOVE NY program. A comprehensive listing of area attractions, lodging and events can be found at OrangeTourism.org. Like Orange County Tourism on Facebook for the latest news on local happenings.
###
Photo features: The Castle Family Fun Center, located at 109 Brookside Avenue in Chester, N.Y.