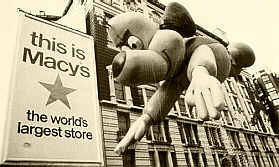 The 85th anniversary Macy's Thanksgiving Day Parade returns to kick off the holidays with giant helium balloons, floats of fancy, marching bands, celebrities, performance groups and the one-and-only Santa Claus
New York, N.Y.
- America's favorite holiday tradition returns once more to dazzle and enchant millions nationwide with its signature magic. On Thursday, Nov. 24, 2011 at 9 a.m., the 85
th
Anniversary Macy's Thanksgiving Day Parade will take to the streets of New York City with a cornucopia of whimsical treats for the whole family. From new giant characters helium balloons including Paul Frank's iconic monkey
Julius
and
Sonic the Hedgehog
, to out-of-this world floats, including
ZHU-NIVERSE!
and
Frozen Fall Fun
, the magic begins at the sound of Let's Have A Parade! This iconic phrase has catapulted gaggles of clowns, exciting performance groups, pulse-pounding marching bands, celebrities and the one-and-only Santa Claus down the streets of Manhattan for 85 years of unrivaled wonder. In 1924, a foundation was set for an incomparable procession that has grown into a world-famous icon. Giving thanks while giving back to New York and the nation, Macy's Thanksgiving Day Parade has become the benchmark for pageantry and the official kick-off celebration to the holiday season. "Since the first storied march in 1924, Macy's Thanksgiving Day Parade has been a call to celebration. Over the years, gathering to watch the parade, whether in person or on television has become a tradition for families across the nation and synonymous with the start of the holiday season," said Amy Kule, executive producer of Macy's Thanksgiving Day Parade. "This year, as we celebrate 85 years of magical moments, we are truly humbled by the unique role the Macy's parade now fills in the lives of Americans, and we are thrilled to celebrate this special milestone with an unparalleled line-up of new balloons, floats and the nation's best performers - all here to kick-off the spectacular holiday season."
###