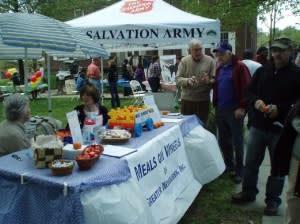 Newburgh, N.Y, – Learn about the positive things the Newburgh community is doing, and how you can be a part of it! Come to the 8th Annual Newburgh Volunteer Fair at Washington's Headquarters State Historic Site on Saturday, April 28th, from 11 AM until 3 PM. Find out about the many projects and organizations in your community, and how you can share in helping those efforts.
Representatives from many non-profit organizations based in Newburgh and the surrounding area will be there with information about volunteer opportunities for teenagers, adults and seniors. This is a chance to build useful skills and meet new people while taking a more active part in your community. Come and see what opportunity is waiting for you.
Music will make this a festive atmosphere, and free admission will be offered to the Museum and to Washington's Headquarters' Hasbrouck house tour.
The Newburgh Volunteer Fair is a yearly event organized by Washington's Headquarters State Historic Site, Safe Harbors of the Hudson and the Newburgh Free Library.
For more information, or to include your not-for-profit organization, call 845-562-1195.
Washington's Headquarters State Historic Site is a registered national historic landmark. It is located at the corner of Liberty and Washington Streets within the city of Newburgh's East End Historic District. The site is one of 35 historic sites within the New York State Office of Parks, Recreation and Historic Preservation and is one of 28 facilities administered by the Palisades Inters Park Commission in New York and New Jersey. For further information contact: (845) 562-1195.  For more information about New York State Parks, please visit our website at https://parks.ny.gov/. com.
For more information call 845-562-1195 or visit us on Facebook at www.facebook.com/washingtonsheadquarters.
###
Contact:
Elyse B. Goldberg | elyse.goldberg@parks.ny.gov | 845-562-1195