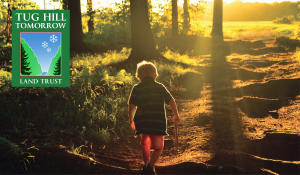 Tug Hill, N.Y. – Tug Hill Tomorrow Land Trust (THTLT) is excited to kick off its three-year campaign, Tug Hill FOR Tomorrow. A campaign to save what matters most.
"This year, more than ever, people see that getting outside is critical to their health and wellbeing. That has meant a surge of interest in finding trails and accessible public open space." Said Linda Garrett executive director of THTLT. "And it has also brought the realization that we need to create more trails, and public conservation areas, close to home." 
These neighborhood conservation areas are important to quality of life, sense of place, and respite from the stress of modern life. When we make the benefits of outdoor experiences accessible to everyone, everywhere, we build stronger connections and communities.
Another stark realization is that our farms are at risk.  There are many farmers in and around Tug Hill who won't get the chance to see the next generation of farmers take over their land. That's because young farmers find it challenging to compete with development prices given the tight profit margins of farming. And, many older farmers need to sell so they can retire. THTLT can help by conserving farms so the next generation can afford the land.
The Northern New York Community Foundation (NNYCF) board of directors recently approved a $50,000 grant towards THTLT's campaign.  To encourage local support, $25,000 is a challenge grant to match gifts from donors from Jefferson ad Lewis Counties. In addition, once THTLT reaches the midway goal for the campaign of $300,000 in gifts and pledges, the balance of the grant will be made available. 
"We are pleased to partner in this way to support projects and programs that invest in the natural resources that help make our region the special place that it is. It is also a meaningful way to encourage greater participation in the campaign by doubling the impact of charitable contributions," said Rande Richardson, Community Foundation executive director.
Over the next five years, with the community's help, Tug Hill Tomorrow Land Trust is striving to make a lasting difference by:
• Creating new public conservation areas, with trails and wildlife habitat, in Jefferson, Lewis, Oswego and Oneida counties.
• Completing the 20-mile Tug Hill Traverse Trail—the only non-motorized long-distance trail on Tug Hill.
• Conserving lands critical for wildlife habitat as well as our health and community water supplies.
• Providing free educational programs and materials for teachers, parents, and community members to help kids engage with nature. The first 12 years of a child's life often establish their connection to nature.
• Assisting farm families in transferring their farms to the next generation rather than being forced to sell them for development.
To achieve this, the land trust is reaching out to donors and the public over the next year and a half. All gifts make a difference. To learn more go to www.tughilltomorrowlandtrust.org.
###
Contact –  Linda Garrett lgarrett@tughilltomorrow.org