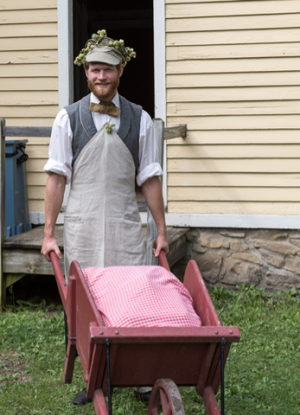 Mumford, August 18, 2020 – One of New York State's original cash crops was the hop plant, evidenced today by Western New York's thriving craft beer industry. This Labor Day, Genesee Country Village & Museum is celebrating all things hops during the Hop Harvest Festival on Monday, September 7. The Museum will take visitors through the history of beer and hops from the field, through fermentation, and into the glass.
Visitors can learn about brewing traditions at one of the only 19th-century working breweries in the U.S. and see the hops being harvested on site, then sit a spell in the Pavilion Garden, where beer will be sold in taste-sized portions so guests can enjoy several varieties, including GCV&M's signature Fat Ox Ale and Stocking Hill Ale, and a selection of craft beer from Flying Bison Brewing Co. Wine and cider will also be on offer. Food available for purchase will include treats from The Whistlestop and D.B. Munger Confectionery as well as the Museum's usual lunch and snack options. The Historic Village will feature demonstrations and crafts all related to the theme of hops and history, including recipes – called receipts in 19th-century parlance – that feature beer and ale as a key ingredient. Guests will enjoy live music across the Museum grounds, games on the Village Green, and can take a walk down to visit the farm animals or see the blacksmith in action.  
The John L. Wehle Gallery features two new exhibits in addition to the popular Victoria's Closet: Fashions of the 1850s. The first, Nature's Chain: The Land and Our Place in It, features a look at the Genesee Valley and surrounding area through an environmental and ecological lens. Opening Labor Day weekend, Fan Favorites features fine art, housewares, historical clothing and textiles, 19th century agricultural technologies, musical instruments, and ephemera chosen from across the Museum's collections as favorite pieces of staff members and patrons, including some rarely-seen gems. Guests can also peek in at a parlor scene arranged to showcase several of these unique items and learn about their interesting histories.  
Genesee Country Village & Museum is open from 10 am – 4 pm Thursdays-Sundays, plus Labor Day, Monday, September 7. Pre-sale tickets for Hop Harvest are discounted $2 each when purchased through the Museum website by 4 pm on Sunday, September 6. GCV&M members and children ages 2 and under receive free admission, and members need not pre-register. The Hop Harvest Festival is made possible by New York State Council on the Arts with the support of Governor Andrew M. Cuomo and the New York State Legislature. 
Photo: Hop harvester, Sean Maciejewski 
Additional photos are available by request. 
GCV&M is the largest living history museum in New York State with the largest collection of historic buildings in the Northeast. The Museum, with its John L. Wehle Gallery, working brewery, vintage base ball park, and Nature Center, is located in Mumford, NY, 20 miles southwest of Rochester and 45 miles east of Buffalo. Visit www.gcv.org for more information. 
Contact: Jen VanRy 
(585) 294-8280 
Day of Event Contact: Becky Wehle