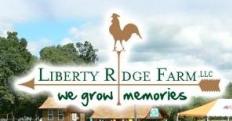 Schaghitocoke, N.Y.
- Liberty Ridge Farm, an agricultural tourism destination and working farm located in Schaghticoke, is opening for their 12th season on September 17
th
 2011. This year opening weekend starts off with the 10
th
Annual Sweet Corn Festival running both the 17th and 18
th
.   From Corn Toss to Corn Chowder, from fun to food, it's Everything Corn! Come enjoy the last of the summer season with cool fun contests with prizes.  Some games kids love are the corn husking challenge and corn-on-the-cob eating contest. Liberty Ridge Farm has food, fall fun and adventure all in one place.  If it's food on your mind, The Pitchfork, the outdoor kitchen will be grilling up local sweet corn pick that morning. Choose from a variety spices and herbs, to jazz up the flavor.  Our famous corn chowder is made from the freshest local ingredients. The celebration continues with the NASA Hubble Space Telescope Adventure Corn Maze, one of the most interesting designs we have created. This year as families walk through the maze they take a step in the once in a lifetime nationally coordinated corn maze celebration.  The SpaceFarm7 outreach is aimed a educating future generations on space travel and growing food in outer space, Liberty Ridge Farm has been chosen as the Northeast representative of the special outreach.  New  The Jumping Pillow, The Spider Web and the All NEW Pumpkin Shooters are just a few of the farming fun things to do The farm is an American symbol of family values and working together, communication, and persistence," said Cynthia Gifford, owner of Liberty Ridge Farm, "we know these are admirable traits and parents love that the activities build character in their kids." An all day fall adventure includes:
Delicious Food - Offered at various locations on the farm, The Gifford Barn, The Pitchfork and The Feed Bucket will have your taste buds in a frenzy, from sweet to savory: Apple Cider Slushies, Fresh Apple Cider Donuts and Fudge. Lunch menus to tantalize your taste buds.
Brad's Barnyard - Hosts over 20 activities for body and mind that implement hand/eye coordination and exercise.
The NEW Jumping Pillow is our newest addition to Brad's Barnyard Adventure. This anti-gravity inspired activity will have everyone jumping for joy!
The Pumpkin Cannon show provides a punkin chunkin shot that carries a pumpkin with amazing kinetic energy sending a pumpkin sailing over a quarter of a mile away !
A pre-school & Toddler favorite - Lil' Farmersville, designed to be developmentally appropriate for children 6 and under.
TheHubble Space Telescope Adventure Corn maze - An amazing design that was a collaboration between Goddard Space Flight Center and NASA to create an experience that allows families to navigate their way through the twists and turns of outer space as we pay tribute to the 20 year successful mission of the Hubble Space Telescope..
If you have never been to the farm before, they have created a realistic interactive look on the new Interactive map at 
www.libertridgefarmny.com/
 map.html. Liberty Ridge Farm is taking reservations for fall birthday parties, social gatherings, campfires and company picnics.
###
About Liberty Ridge Farm
Liberty Ridge Farm is an agricultural tourism destination and working farm on the historic Hoosic River. In the 12
th
 Season Liberty Ridge Farm has been named the northeast representative for the NASA Space Farm7 special outreach program. The SpaceFarm7 pairs NASA and seven other agri-tourism destinations across the United States in a special outreach program aimed at educating children on space exploration. Liberty Ridge Farm and Goddard Space Flight Center will be paired together to coordinate their leg of the outreach program and celebration. Liberty Ridge Farm has entertained families for 12 Seasons, coming up with new and exciting corn maze designs that delight hearts and minds. The 2011 Corn maze will highlight achievements made during the 20 year NASA Hubble Space Telescope program, proudly bearing the name of "The Hubble Space Telescope Adventure Corn Maze." The Fall Festival begins September 17th and runs to November 6th. Liberty Ridge Farm is a fall family attraction that has food, fun and adventure all in one place with Daily Shows, Attractions, Pumpkin Patch, Fresh Fudge and more. You can find information on the 
Calendar of Events
. The Harvest, Haunted Attraction runs every Friday and Saturday with 3 haunted attractions that thrill and chill. The Farm is open to the public daily, and offers school Educational Field Trips, Weddings, Company Picnics, Birthday Parties, Social Celebrations and Special Events. For more details you can reach Michael Velardi at imageMAXmedia 
518-207-6052
or Cynthia Gifford at Liberty Ridge Farm. Liberty Ridge Farm 29 Bevis Road in Schaghticoke, NY 12154. 
518-664-1515
. For information on the web, visit 
http://www.libertyridgefarmny.com/
Follow us on Facebook at 
www.facebook.com/libertyridgefarm
, Join Us on Twitter at
Twitter.com/libertyridge