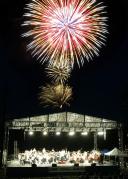 Capital-Saratoga Region, N.Y.
  - Check out just some of the great happenings this month in New York's Capital-Saratoga region!
June 9: Art on Lark, Lark Street, Albany, 10 a.m. to 5 p.m.
The arts come alive in every way possible - from paintings and unique pieces to live performances. Lark Fest celebrates the art world with this extravagant street fair. CDTA and the Lark Street BID have teamed up to present a number of artist-led projects that incorporate advocacy for public transportation, environmental awareness, and support for the arts community of the Capital Region. Projects will include a mock CDTA bus shelter and a design piece. Also new to the festival is the Yarn Bombing project designed by local fibre artists, including Karen Maag-Tanchak. Yarn Bombing is a form of street graffiti art that utilizes colorful displays of knitted or crocheted fibre art pieces.
June 17: Albany Father's Day Concert, Hudson Riverfront Park, Albany, 6:30 p.m. to 9:30 p.m.
Help dad celebrate Father's Day with great live music, food vendors, and a fireworks show over the Hudson River. Join in on the festivities with the U.S.O Liberty Bells, the only official chartered USO show troupe. The USO Liberty Bells travel the world performing for service men and women, their families, veterans and audiences that actively support the troops here and abroad. With a group comprised of 21 Broadway and off-Broadway singers the USO is sure to give a great show. The celebration will continue with the Dixieland Jazz combo who are sure to get your toes tapping, your fingers snapping and your smile broadening as they play the exciting music of the 1920's and 30's jazz heroes. The night is rounded out with a New Orleans-style brass band performing a high-energy mix of funk, hip-hop, jazz, and pop music. The Brass Machine Brass Band keeps audiences all over the country up and dancing. What evening would be complete without a few hits, enjoy the 94th Army Pop-Rock Band as they perform TOP 10 hit songs from the '80 to today, and wrap up the night of fun with spectacular fireworks performance to say thanks to dad for all he does.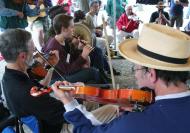 June 22-24: Old Songs Festival of Traditional Music & Dance, Altamont Fair Grounds, Altamont
Enjoy a weekend of wild stories, eclectic music, and camping, as minstrels of all sorts come together at the beautiful Altamont Fair Grounds. Old Songs is a family-friendly festival of folk, traditional, Celtic and world music and dance, known for its relaxed atmosphere, interactive sessions and workshops, hands-on experience and   participatory nature. In addition to three concerts there are 120 daytime workshops given by performers. Also featured are a juried craft show, food and instrument vendors, and a well-run children's activity area
June 30-July 1: 35th Anniversary of Freihofer's Saratoga Jazz Festival, Saratoga Performing Arts Center, Saratoga
Be a cool cat and start your summer with two stages, 20+ artists, & cool jazz - it's all about the hang. SPAC's idyllic State Park Setting is an asset that enhances the whole jazz experience. In addition to performances on SPAC's Amphitheatre and Gazebo stages, the festival features a fine arts and crafts fair, CD signings by artists, a full-service bar in the Hall of Springs, southern style barbeque, and other food vendors, and a children's craft area. Guests may also bring their own food and beverages, as well as blankets, tents and lawn umbrellas for a fun time. ###