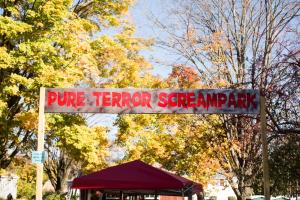 Don't miss a spooktacular lineup of tricks and treats this Halloween season
Orange County, N.Y. (October 7, 2020) – It's the most wonderful season for Halloween enthusiasts of all ages in Orange County, N.Y. Residents and visitors to the Hudson Valley can choose from a scary good lineup of thrills and frights throughout the month of October. Home to legend and lore, terrifying tours, nightlong horror-themed movie nights, trunk-loads of treats, and more await!
"Mark your calendars, it's officially the Halloween season! Whether you're seeking thrills or a family-friendly outing, Orange County has a spooktacular lineup of events for you," said Orange County Tourism Director Amanda Dana. "Halloween isn't just for the kids either! Trick or treat yourself to a night with friends for a candy and wine pairing, or cuddle up for a nightlong movie marathon of classic horror flicks at a local drive-in. Come on out, if you dare!"
Below are some scheduled Halloween activities in Orange County, N.Y. Before visiting any of the locations, please contact the venue directly to confirm that they are open and practice safe social-distancing.
Mid-Orange Correctional Facility Ghost Hunt, 122 State School Road, Warwick, Friday and Saturday through October 10, 8:00 p.m. - 4:00 a.m.: Disembodied voices, shadow figures, and full-bodied apparitions. Recently investigated by Jason Hawes and the Ghost Nation crew, guests can now experience the former Mid-Orange Correctional Facility in Warwick for themselves and see what secrets they are able to uncover. Gain exclusive access to more than seven buildings. Social distancing required. ghosthuntsusa.com/product/mid-orange-correctional-facility-ghost-hunt-warwick-new-york
Dinner & Readings at The Meadowbrook, 1290 State Route 94, New Windsor, Saturday, October 17, 6:00-8:30 p.m.: With an open mind and an open heart, guests are invited to spend an intimate evening with their host, Psychic Medium Lisa Morrison, as she delivers evidential information and healing messages from guests' departed loved ones. Due to the nature of the event, tickets will be limited, and guests will be appropriately socially distanced. eventbrite.com/e/psychic-medium-lisa-morrison-tickets
Fair Oaks Drive-In Trunk-N-Treat, 365 Bloomingburg Road, Middletown, Saturday, October 24, 4:00-9:00 p.m.: Grab the kids and head to Fair Oaks Drive-In for games, treats, and a family-friendly movie, "The Nightmare Before Christmas". The movie will begin immediately after trick-or-treating. Social distancing required. fairoaksdrivein.simpletix.com
The Great Halloween Hunt, Veterans Memorial Park, 29 Forester Avenue, Warwick, Sunday, October 25, 12:00-5:00 p.m.: Enjoy a socially-distant, family fun day at the Warwick Valley Rotary Club. This Halloween event allows families to choose a walkable or drivable trail, searching for clues throughout the town of Warwick to lead their teams to victory. facebook.com/events/284551469498551
"Spookley the Square Pumpkin" Movie Night, Apple Ridge Orchards, 101 Jessup Road, Warwick, Fridays through October 23, 5:30-8:00 p.m.: Apple Ridge Orchards is delighted to partner with Spookley, PACER, and farms across the country to raise awareness about bullying prevention in honor of National Bullying Prevention Month. Movie-goers will take a short walk under the moonlight among the apple trees to an open field and watch "Spookley the Square Pumpkin", a unique pumpkin that delivers a special message of tolerance and kindness that is just right for fall…and any time of the year, on a large outdoor screen (Bring a blanket!). Each ticket provides parking, admission, and any size pumpkin of your choice in the pumpkin patch. The farm market will be open for popcorn, drinks, and all traditional farm goodies. Trained farm staff will be working the entire event wearing face coverings, adhering to social distancing guidelines, and strictly enforcing all operational and safety protocols. appleridgeorchards.ticketleap.com/2020-pyo-pumpkin-spookley-movie-night
Fair Oaks Halloween Horrorthon, Fair Oaks Drive-In, 365 Bloomingburg Road, Middletown, Saturday, October 31, 6:00-11:00 p.m.: Get ready for a night of thrills at Fair Oaks Drive-in, featuring a line-up of back-to-back Mike Myers films, including "Halloween", "Halloween 2", "Halloween 4", and "Halloween 5" as well as music by Alan Howarth, including compositions from "Big Trouble In Little China", "Escape From New York", and "Christine". Social distancing required. facebook.com/events/236920857736947
Pure Terror Scream Park, Museum Village, 1010 State Route 17M, Monroe, Every Friday, Saturday, and Sunday through November 1: Pure Terror is the Guinness World Record holder for the longest haunted attraction in the world, six years running. Featuring 10 haunted walk-through attractions, including Terror in the Woods, The Crypt, Resurrection Cemetery, The Coven, Terror Under the Big Top, Legends of Horror, Pure Darkness, and more. Among the scariest haunted attractions in the region, Pure Terror immerses you in a world of movie quality sets and Hollywood-grade costumes. Recommended for ages 12 and up. Due to COVID-19, limited tickets will be available per night. pureterrorscreampark.ticketspice.com
Halloween Candy & Wine Pairing, City Winery Hudson Valley, 23 Factory Street, Montgomery, Thursday, October 29, 6:00 p.m.: Talk about a treat! Taste your way around the world with City Winery's award-winning beverages paired with favorite Halloween candy. citywinery.com/hudsonvalley/halloween-candy-and-wine-pairing-class
As the world reopens, Orange County, N.Y., invites residents and visitors to escape, enjoy and explore its wide-open spaces. For a full list of attractions, lodging and dining options available at this time, please visit orangetourism.org/fall-fun/. Additionally, a new fun, free, 56-page travel guide is available for digital download or by request at OrangeTourism.org/travel-guide.
About Orange County Tourism
Orange County Tourism, based in Goshen, N.Y., is the county's tourism headquarters and a participant in the I LOVE NY program. A comprehensive listing of area attractions, lodging and events can be found at OrangeTourism.org. Like Orange County Tourism on Facebook for the latest news on local happenings.
###
Photo features: Pure Terror Scream Park, located at Museum Village in Monroe, N.Y.
For more information, contact:
J.P. McGuirk
Focus Media, Inc.
845-576-2212