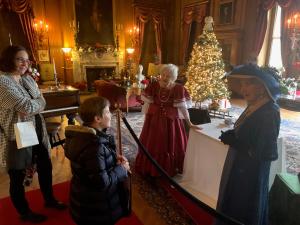 Sundays In December, 1:00 - 3:00 pm
Staatsburg, N.Y. (11/13/19) — Staatsburgh State Historic Site will host The Holiday Whodunit, a mystery for children, every Sunday afternoon this December.  Children ages 6 to 11 and their family members can come anytime between the hours of 1 p.m. and 2:30 p.m. to attend the program.  The children become detectives and solve a mystery by interviewing costumed interpreters, who portray Gilded Age houseguests and servants.  One of Staatsburgh's most popular programs, the Holiday Whodunit has become an annual tradition for many families, who come each December to enjoy the holiday decorations and crack another Gilded Age case.
While the children question suspects, their parents can enjoy decorations that evoke the spirit of the turn of the century.  Staatsburgh's holiday décor reflects the style of Gilded Age Christmases, from the over-the-top dining room ornamentation to the old fashioned plain white gift wrap paper used on presents heaped under the mansion's 18-foot Christmas tree.  The tree is decorated with electric lights, as trees might have been in other mansions of the period.  Tree lighting was an early application of electricity, first used by one of Thomas Edison's engineers on his Christmas tree at home.  
Parents should plan about an hour for the children to make their way through the mansion.  After an introduction to the mystery, the children go room to room interviewing suspects to uncover clues.  In each room, they find Mrs. Mills' guests or Mrs. Mills' servants, all of them eager to prove their innocence and implicate someone else.  At the end of the visit, children submit a ballot with their vote for whom they suspect. 
"We try to hit the sweet spot between not too hard and not too easy," said Staatsburgh Educator, Donald Fraser.  "We want a mystery that is easy enough that a 6-year-old could figure it out, maybe with some help from the parents, but not so easy that an 11-year-old would see through it right away.  If the children pay close attention, they'll pick up the clues that will help them deduce the one right answer."
All ballots will be entered in a drawing for a prize, to be awarded after the Holiday Whodunit is over at the end of December.  Winners will receive a $20 gift certificate from The Holiday Whodunit's sponsors, Oblong Books & Music and the Friends of Mills at Staatsburgh.
The Holiday Whodunit will take place on December 1, 8, 15, 22 and 29, from 1 p.m. to 3 p.m.  Staatsburgh will open for holiday touring on Friday, November 29.  Touring hours will be Thursday through Sunday from 11 a.m. to 3 p.m. through December 31.  The site will be closed December 23, 24 and 25.  Site admission is $8 for adults, $6 for seniors; children 12 and younger are free. 
Staatsburgh State Historic Site and the Ogden Mills & Ruth Livingston Mills Memorial State Park are located on Old Post Road in Staatsburg, off Route 9 between Rhinebeck and Hyde Park. The historic site is one of 6 sites and 15 parks administered by the Taconic Region of New York State Office of Parks, Recreation and Historic Preservation. For more information, call 845-889-8851, or visit Staatsburgh's websites at https://parks.ny.gov/historic-sites/25/details.aspx
www.facebook.com/StaatsburghSHS and www.staatsburghstatehistoricsite.blogspot.com.
Staatsburgh's events are listed at https://parks.ny.gov/events/event-results.aspx?hs=25
The New York State Office of Parks, Recreation and Historic Preservation oversees more than 250 parks, historic sites, recreational trails, golf courses, boat launches and more, which are visited by 74 million people annually. A recent study found that New York State Parks generates $5 billion in park and visitor spending, which supports nearly 54,000 jobs. For more information on any of these recreation areas, call 518-474-0456 or visit http://www.parks.ny.gov/, connect with us on Facebook, or follow on Instagram and Twitter.
###
Contact: Donald Fraser | Staatsburgh State Historic Site, Interpretive Programs Assistant
Donald.Fraser@parks.ny.gov | (845) 889-8851 ext. 338