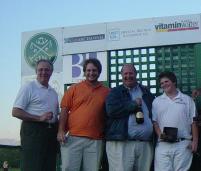 Saratoga Springs, N.Y.
- This August, Saratoga Polo welcomes the legendary thoroughbred racing family, the Goodman's, to the historic Whitney Field as brothers Bo and Hutton play during polo's tournament season. Traveling with them is their uncle, John Goodman, who is the founder of the renowned International Polo Club (IPC) in Wellington, Fl. and will also be attending Saratoga this season with his nephews. Hutton Goodman leads the Faraway Farm team, named after the family's Lexington-area farm that was once home to the thoroughbred legend Man o' War. A recent graduate of the University of Virginia, Hutton played polo at his alma mater and has spent the last year playing polo around the globe. Bo Goodman is the sponsor of the Mt. Brilliant Polo team - named for his father's extensive thoroughbred breeding operation also in Lexington - and is one of the youngest sponsors in polo. Bo recently played in the high goal season at IPC, where his team won the Ylvisaker Cup - one of Florida's most important and prestigious 20-goal tournaments. Recently he has spent time playing at clubs in Nashville, Tenn. and Lexington, Ky. Famed polo player, Julian Hipwood - a former nine-goal player who is considered to be one of the greatest players in British polo history and was once polo coach to Prince Charles - coaches both of the Goodman brothers' teams and will also be in Saratoga this August.  Saratoga Polo matches are played every Wednesday, Friday and Sunday; gates open at 4 p.m. and matches start at 5:30 p.m. at the polo grounds at Bloomfield and Denton Roads (weather and field conditions permitting). Admission is $25 per person for entry into the Clubhouse - offering box seats, air-conditioning and a full cash bar - or $25 per carload on the general admission lawn. Sponsors of the 2009 Saratoga Polo Season include Michelob Light, Veuve Clicquot Champagne,
The Saratogian,
The Times Union,
UBS, Gurka's Original Bar Rooms, Albany Broadcasting and The Talking Phone Book.  Additional information is available by calling the Saratoga Polo Association at 518-584-8108 or visiting
http://www.saratogapolo.com/
.
###
MEDIA CONTACT:
Amanda Brotherton 518.584.4361
abrotherton@saratogasponsorships.com