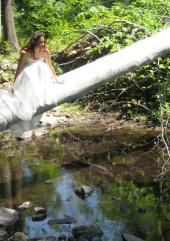 Screening of THE DRESS (Visiting Film Maker Series and Reception) Produced by Westchester residents, Kristen Hester and Jessica Hester of Hesterhouse Productions
Peekskill, N.Y.
- Finally, a fresh look at the modern day wedding, exposing all the complexities and unintentional family humor hidden behind the bridal suite door! The Hester sisters, Jessica and Kristen, co-founders of Hesterhouse Productions, a local family owned filmmaking company, have turned their challenging childhood into a cinematic story of love and laughter, as they explore tradition and growing up in Westchester, in their film, The Dress. A Night of Hesterhouse, which features the screening of The Dress, is scheduled for Friday, April 15th at 8:00pm at The Paramount Center for The Arts. As a special part of the evening's program, local songstress, Dutchess Di of Dutchess Di and the Distractions will be performing live, Hudson River Blues, one of the songs showcased in the film.  The  Paramount's preview of The Dress, produced by Kristen Hester and Directed by Jessica Hester, is complete with a red carpet and  includes screenings of four additional original works created by the Hester sisters and fellow Westchester filmmakers ranging from Television to Feature Films, all shot, inspired, and filled with other Westchester-ites and locals. Tickets are only available at the door on the evening of the film. Individual tickets: $9/Members, Seniors, Students w/ID: $7 For more information, log onto
http://www.paramountcenter.org/screen
or call 914 739 2333.  Paramount Center for the Arts is located at 1008 Brown Street, Peekskill, NY 10566.   Bob Conte, SVP, Creative Affairs of HBO Films, viewed The Dress at a recent film festival and was impressed with the Hester sisters' enthusiasm and their success at navigating the financial and logistical obstacles of first-time filmmakers. "A lot of people want to make movies, and a much smaller number actually make them," says Conte. "And a much smaller number than that make movies worth watching." Hesterhouse Productions' film The Dress is a short film that explores one woman's walk down the aisle, her family, and the wedding. The script, inspired by the poem "Buoyancy" by Rumi, is loosely based on the experiences of more than 400 weddings at Lyndhurst Estate, where Jessica Hester (Writer, Director and Lead Actress) worked as a wedding planner for fourteen years. It is a character driven film filled with humor and heart, driving home universal themes of family, identity and absolute truth. The Dress speaks loudly about the dismay hidden behind tradition and the Wedding, while being dreamlike in the most provocative way. Kristen Hester (co-founder of Hesterhouse Productions) who served as the film's Producer and created the overall Production and Costume Design for the film, shares her sister Jessica's passion and enthusiasm for storytelling. In making films like The Dress, the Hester sisters approach the art of cinema as a means to express the dreams, fantasies, conflicts, strength and uncertainty inherent in being 21st century female artists in the film industry. This film, in particular, explores the volatile exchange between fantasy and convention, and is inspired by works ranging from Almodovar, Allen, Fellini, Bergman, Chekhov, and Eugene O'Neil. It is humorous, beautiful (many thanks to the serene Lyndhurst grounds and the photographic eye of Director of Photography Trisha Solyn) and terrifying; it is a collaboration of passion and frustration between the Hester women and their talented friends, family and professional team, including co-director David Berman. This family of filmmakers have not only captured the beauty of Tarrytown's Lyndhurst Castle, but have collaborated with some of Westchester's most talented musical artists, including The Sabatino Duo, Duchess Di (aka Diane Cricchio), Paul DiRito, and Robert Hester (who happens to be the filmmakers' Father). As a special bonus of the evening, Hesterhouse will introduce works from other Westchester filmmakers and Hesterhouse's upcoming projects. SERVED (7 MIN):  A situation comedy that exposes the true to life people that give the restaurant world it's "pit-stains", the Waitstaff.  Mishaps and high-jinks unite this make-shift family of misfits that band together to serve their frien-emies, the Customers in the Purgatory that is the restaurant.  The real question is, are you serving life or is life serving up a hot steamy plate of you?  Story by Angelica Hester, Created and Written by Angelica, Jessica, and Kristen Hester. LITTLE BLACK BOX (5 MIN):  A feature length film following the journey of 4 sisters coming into their own, finding love and strength in one another while searching for their missing father.  Imaginations getting the best of them, they find themselves in sticky situations that only a good sense of humor and zany relatives can cure.  Addiction, Fantasy, Survival.  Every family has its secrets.  Written by Jessica and Kristen Hester. SEEKING VOICES (2 MIN): A short film exploring ten women and their roles in life and in love over the past 100 years.  There are ten (10), one (1) minute vignettes for each decade from 1912 through 2002.  Each scene covers one woman and her role as wife, girlfriend, mother, daughter, immigrant, career woman, etc.  It magnifies what it is to be a woman in each of those decades, more importantly showing the balance of love and life women either sacrifice or fulfill in order to reach happiness.  Written and Directed by Kristen Hester.
About Hesterhouse Productions:
Hesterhouse Productions (HHP) has been created by the Hester sisters who believe that you can be anyone you dream of. Imagination and humor have become essential ingredients to our survival, guiding us to find hope and courage to change the reality of the world we were born into and willing us to share this experience through storytelling. Our mission is to create a world of opportunity and possibility; to tap into our inner child as it exposes the vulnerability, pureness and the imagination of our souls; and to empower every artist to share their voices through all forms of art. We strive for equality, sensitivity and communion between contributing artists and their art form. We aspire to share that spirit through the stories we tell.
http://www.hesterhouseproductions.com/
###
Contact:
Cindy Beer-Fouhy Freelance Writer/ Publicist/ Arts Consultant P. O. Box 22 Crompond, NY 10517 (914) 528-5535
cindyf@bestweb.net
http://www.thepubliceye.info/