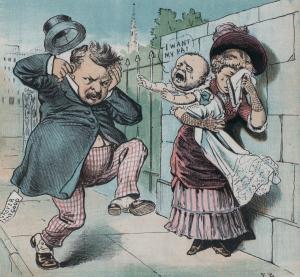 June 17, 2:00 pm
Staatsburg, N.Y.  (6/8/21) — Celebrity scandals at the turn of the century will be the focus of "Gilded Age Scandals," a 45-minute outdoor talk on Staatsburgh's front portico on June 17 at 2:00 p.m.    The talk is free but registration is required at www.Staatsburgh.Eventbrite.com
"Gilded Age Scandals" focuses a spotlight on the scandalous behavior and intrigues of the very rich at the turn of the century.  Staatsburgh's owners, Ruth and Ogden Mills, were models of respectability, but the transgressions of their friends shocked and titillated Edwardian Society. Stories of sex, mayhem and ill-begotten money were not only whispered in the drawing rooms but were front page news in the newspapers of the day. 
The talk will discuss a famous celebrity murder, scandals that reached as high as the King of England and the President of the United States, and the tale of the famous Society figure who told his distraught bride on their wedding night, "Your money is your only asset in my eyes." 
There is no charge to attend the talk, but visitors must register in advance.  Attendance will be limited to aid in social distancing. Staatsburgh follows all NYS Department of Health guidelines for safety during the COVID 19 pandemic. Unvaccinated visitors should wear a face covering when unable to maintain social distance outdoors. Social distancing will be required of all participants; assisted listening devices are available to make hearing easier. To make reservations, visit Staatsburgh.Eventbrite.com.  
Staatsburgh State Historic Site and the Ogden Mills & Ruth Livingston Mills Memorial State Park are located on Old Post Road in Staatsburg, off Route 9 between Rhinebeck and Hyde Park. The historic site is one of 6 sites and 15 parks administered by the Taconic Region of New York State Office of Parks, Recreation and Historic Preservation. For more information, call 845-889-8851, or visit Staatsburgh's websites at Parks.NY.gov, Facebook, and Blogger. Staatsburgh's events are listed at Parks.NY.gov/Events. 
New York State Office of Parks, Recreation and Historic Preservation oversees more than 250 individual parks, historic sites, recreational trails and boat launches, which were visited by a record 78 million people in 2020. A recent university study found that spending by State Parks and its visitors supports $5 billion in output and sales, 54,000 private-sector jobs and more than $2.8 billion in additional state GDP. For more information on any of these recreation areas, visit www.parks.ny.gov, download the free NY State Parks Explorer mobile app or call 518.474.0456. Also, connect with us on Facebook, Instagram and Twitter.
###
Contact: Donald Fraser | Donald.Fraser@parks.ny.gov | (845) 889-8851 ext. 338