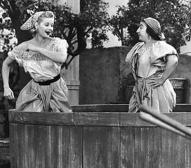 16th Annual Purple Foot Festival at Casa Larga Vineyards Taking Place Sept. 18 
Fairport, N.Y.
- Casa Larga's annual harvest celebration will be held Sunday, September 18, 2011 from 10am until 5pm, rain or shine at Casa Larga Vineyards in Fairport. It began as, and continues to be, a way to celebrate and kick off harvest time at the winery and highlight the Colaruotolo family's Italian heritage. The Festival is best known for the authentic old world grape stomping that earned it the name of "Purple Foot." But the Purple Foot Festival offers much more than foot-staining grape stomping. Guests can take their purple feet around the vineyard on hayrides or attend an Italian dance class. There are activities for those under 21, including a children's area, dance classes, strolling entertainment, a kid's maze, crafts, live music and a wide array of vendors with family-friendly wares. Adults will enjoy beer tastings, Casa Larga wine tastings, hard

cider samples from Bellwether Hard Cider, tours and a cash Harvest Drink wine bar. Admission includes a tour and tasting in addition to all the grape festivities. Members of the Casa Larga Wine Lover Club, and those who join at the festival, can enjoy a private Wine Lover Club Lounge. Guest Speakers Holly Howell and Lorraine Hems will give wine seminars. Holly Howell is a wine columnist on FingerLakesWine.com, and teaches classes on food and wine at RIT, Wegmans and Casa Larga Vineyards. Lorraine Hems is a Certified Sommelier, a Certified Wine Educator, a Certified Specialist of Spirits and a regular instructor at the New York Wine & Culinary Center. Vendors at the festival include Moonlight Creamery (ice cream), Vigneri Chocolates, Yancey's Fancy Cheeses, Jill Bates Fashion, Flour City Pasta, Robbie Wood Creations, Karma Sauce, High Fashion Jewelry, Van Buren Bay Cosmetics, Java Gourmet, Cindy's Grape Pies, Simply Irresistible Chocolates, Cheesy Eddies and more.  Casa Larga welcomes Red Osier for food concessions with a Children's Menu and specialty Purple Foot menu items, including a Casa Larga Red Wine Sausage on a wheat roll and a Summer of Riesling special. Also available for purchase at the festival are bottles of Casa Larga Vineyards wine, bottles of Bellwether Hard Cider and Cindy's Grape Pies. The official hotel of the Purple Foot Festival is Homewood Suites in Victor. 575 Fishers Station Drive, Victor, NY 14564. Tickets are available at Wegmans "That's the Ticket" locations or the Casa Larga Vineyards Wine Shop. Under 21: Free Advanced Tickets: $10 At the Door: $12 Wine Lover Club Members:  $8
###
Located in Fairport, NY, Casa Larga Vineyards is New York's premier wine producer, highly regarded for its production of award-winning, world-class Ice Wines. Casa Larga produces a wide range of wines, including Chardonnay, Merlot, Riesling and other proprietary table wine blends. For more information call (585) 223-4210 or visit
http://www.casalarga.com/
.
Contact
: Camille Campanaro 585-752-2661