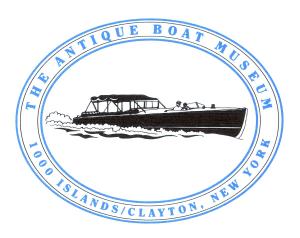 Clayton, NY (January 14, 2021) – In light of the uncertainties caused by surging cases of COVID19 over the past few months, the Antique Boat Museum will be limiting roster sizes for this winter's inperson session of The Captain School. Instructed once again by Captain Michael Gerviss, class will take place 9am-5pm, Monday-Friday beginning February 22nd and will conclude with testing on Saturday, March 6th. Online registration is now open on "The Captain School @ ABM" page under the Education dropdown menu at abm.org. Strict COVID-19 protocols, including a temperature check, questionnaire, social distancing and face coverings will be required for all students and instructors.
A Merchant Mariner Credential is required to captain any boat "for hire" – that is, with at least one paying passenger or any billed cargo. An Operator of Uninspected Passenger Vessels (OUPV) license permits mariners to captain any vessel with six or fewer passengers for hire that is not subject to Coast Guard inspections as laid out in Subchapter T of CFR 46.
ABM also offers a Masters Upgrade course, permitting mariners with the appropriate documented sea service to captain vessels that fall within 25, 50 or 100 GRT parameters.
Finally, mariners can offer commercial assistance to vessels in distress by completing the Towing Endorsement class and exam. This endorsement is required for captains who work for companies such as TowBoatUS, SeaTow and many local marine transport companies.
Further information, a detailed class schedule, links to the Coast Guard's National Maritime Center MMC Application checklist and online course registration can all be found at abm.org under the Education dropdown menu and questions about registration or eligibility for a Merchant Mariner Credential can be directed to Amanda Dudley, Director of Education at amandadudley@abm.org or by calling 315.686.4104 x225.
About ABM
The Antique Boat Museum is the premier freshwater nautical museum in North America. Located in the 1000 Islands on the St. Lawrence River, ABM's galleries overflow with over 300 unique and beautifully preserved boats and thousands of recreational boating artifacts. Every summer our 4.5-acre campus comes alive with speed boat rides, special events, educational programs for all ages and more. The Antique Boat Museum's mission is to collect, preserve, interpret and celebrate boats and related artifacts to advance public understanding of the importance of boating to the cultural history of North America and the St. Lawrence River in particular.
###
Contact:
Amanda Dudley, Director of Education 315.686.4104 x225 amandadudley@abm.org