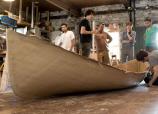 Clayton, N.Y.
- The Antique Boat Museum (ABM), North America's premier freshwater nautical museum based in Clayton, New York, announced today details of its upcoming
Paper Boatbuilding Workshops
to be held in July and August. Last summer at the ABM, a group of Brooklyn artists, better known as Mare Liberum, built a paper skiff and later rowed it to Montreal, Canada.  Since then, Mare Liberum has traveled around the United States building paper boats and launching them in local waters.  Their latest project was in Blue Mountain Lake, NY where they built a paper canoe with resounding results.  Stephan von Muehlen, a member of Mare Liberum, and the world's expert on the ancient/emerging technology of building boats out of paper is back this summer at the Antique Boat Museum.  This is your chance to get involved.  Stephan will be teaching two full-day workshops on building boats out of paper.  Come learn one of the most economical ways to build a boat and how simple it really is. The workshop will teach paper boatbuilding techniques on two full-sized paper canoes; one already partially completed and one built by workshop participants. At the conclusion of the workshop, the paper canoe will be added to the ABM collection. Registration is now open, but limited. Cost is $200 for members or $225 for non-ABM members. Session #1: July 27-28 Session #2: Aug 17-18 Mare Liberum is a collaborative exploration of what it takes to make viable aquatic craft as an alternative to life on land. The project draws from sources as diverse as ocean-crossing raft assemblages, improvised refugee boats built in Senegal and Cuba, and modern stitch-and-ply construction methods which make complex, classic boat designs approachable by novice builders.
###
Contact
: Michael Folsom 315.686-4104 x250