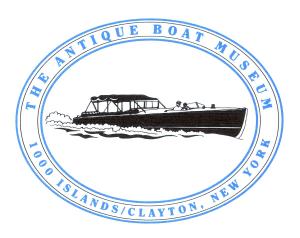 Clayton, New York – The Antique Boat Museum and the United States Coast Guard Auxiliary's Alexandria Bay Flotilla have partnered to offer remote learning opportunities through the end of 2020. More new and reimagined programming will continue to roll out in early 2021 as part of this partnership.
The final session of About Boating Safely for 2020 will be held on Google Meet from Monday, November 2 through Thursday, November 5 from 6pm-8pm. This is a more compact schedule than previous sessions of the class, lasting 2 hours per night for 4 nights rather than 1 hour a night for 8 nights. As the USCG Auxiliary's website states, "this beginner boating class will give you the knowledge needed to obtain a boat license or safety certification in many states. Many boat insurance companies will offer discounts on boating insurance to boaters who successfully complete About Boating Safely." New York State accepts this training in lieu of the state safe boating program. Currently, all boaters born on or after January 1, 1993 are required to hold a safe boating certificate in New York State; that requirement shifts to all boaters born on or after January 1, 1988 in 2022.
Starting in December, ABM and the USCG Auxiliary will also host 2-hour Seamanship Seminars through Google Meet on Saturdays at 10am. These seminars are best suited for graduates of About Boating Safely or similar certification programs and people with prior boating experience. Seamanship Seminars are meant to be informal sessions in which all registrants actively participate to share information and knowledge. More information regarding the Seamanship Seminar Series will be released in early November.
About ABM
The Antique Boat Museum is the premier freshwater nautical museum in North America. Located in the 1000 Islands on the St. Lawrence River, ABM's galleries overflow with over 300 unique and beautifully-preserved boats and thousands of recreational boating artifacts. Every summer our 4.5 acre campus comes alive with speed boat rides, special events, educational programs for all ages and more. The Antique Boat Museum's mission is to collect, preserve, interpret and celebrate boats and related artifacts to advance public understanding of the importance of boating to the cultural history of North America and the St. Lawrence River in particular. – End – Contact: Amanda Dudley, Director of Education 315.686.4104 x225 amandadudley@abm.org