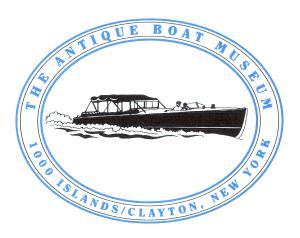 Clayton, New York (June 11, 2020) – The Antique Boat Museum and the United States Coast Guard Auxiliary Flotilla 1-6 (Alexandria Bay) are collaborating to adapt "About Boating Safely", the Auxiliary's nationally recognized boater safety class to meet COVID-19 restrictions. All classes offered through the Alexandria Bay Flotilla will be offered via Google Meet through November. While this is a USCG Auxiliary class, registration through the Antique Boat Museum's website is required to be added to the roster.
Beginning June 29th, "About Boating Safely" will be held from 6:30-7:30pm, Monday-Thursday for two weeks with a two-week break between sessions, concluding on Thursday, October 1 st. This is an eight-hour course and students will only need to register for one session to receive their certificate. Students will need a computer or tablet with internet access, a functioning webcam and microphone to participate. The textbook for this course is included in tuition and can be picked up at the Antique Boat Museum or shipped to you for an additional fee. More information and the link to online registration are available on the Antique Boat Museum's website at www.abm.org. 
Schedule
Session #1 June 29-July 2; July 6-9
Session #2 July 27-30; August 3-6
Session #3 August 24-27; August 31-September 3
Session #4 September 21-24; September 28-October 1
Under Brianna's Law, passed in 2019, safe boating certification is required in New York State on the following schedule:
If you were born on or after the following dates,you need to be certified to operate a motorized vessel by:
January 1, 1993  2020
January 1, 1988  2022
January 1, 1983  2023
January 1, 1978  2024
All operators of motorized vessels, regardless of age, will need a boating safety certificate by January 1, 2025.
About ABM
Located on the St. Lawrence River in upstate NY, ABM features a collection of over 300 antique and classic boats and thousands of recreational boating artifacts. Each summer the waterfront campus comes alive with numerous educational programs and special events, including the longest running antique boat show in North America. For more information, please visit the Museum's website at www.abm.org.
###
Contact: 
315.686.4104 x225 |   amandadudley@abm.org  
Amanda Dudley, ABM Director of Education