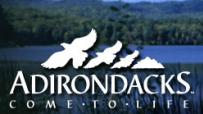 Adirondack Region, N.Y. - Whether you're looking for a biking experience on a backcountry trail, or an easy spring hike through beautiful scenery - you'll find it here in New York's Adirondack Mountains. Grab your hiking boots or bike and experience our six-million-acre wilderness this spring. You'll enjoy stunning views from uncrowded trails all season long! Biking - Where to go:
For the beginner cyclist, the Lake Clear and Hays Brook areas of the Northern Adirondacks offer great one-to-four mile loops through the beautiful forest. The Sheep Meadow Trail is perfect for beginner to intermediate cyclists and offers easy cruising to lean-tos. The Slush Pond Horse Trail is a 1.5-mile intermediate trek with a series of small hills. For more information on cycling routes check out the Adirondack Lakes' cycling brochure.
The St. Lawrence Seaway Ride starts in Canton and proceeds along the Seaway Trail. This ride takes you to the Dwight D. Eisenhower Lock and provides spectacular views of ocean-going ships.
Pleasant Valley Ride offers lightly rolling terrain and sparsely traveled back roads. Mom's School House Café is located just off the beaten path and offers a great place to stop for an ice-cream float, sundae or cheeseburger.
Indian Creek Tour is a scenic, 24-mile ride through several towns in the Indian Creek Nature Center. See the Trinity Chapel, old grist mill, Amish farms, and wildlife.
Deer Pond Loop Trail is an intermediate trail is a 7.3-mile loop with undulating terrain that leads to a nice picnic spot overlooking the pond.
Great early-to-late spring hikes: Unseasonably warm spring weather in the Adirondacks means that spring has come early - and so has mud season.  Be prepared for any conditions and find out the best routes to take by checking out VisitAdirondacks.com's spring hiking page. In the high peaks, snow and ice are still a concern and hikers should dress and plan accordingly. In the spring, the state Department of Environmental Conservation generally warns against trekking into the High Peaks above 3,000 feet so as to preserve delicate Alpine ecosystems and the trails themselves. However, there are plenty of trails that allow hikers to get out and enjoy the wild Adirondacks.
The Adirondack Park, named for the Adirondack Mountains that lie within its boundary, offers some of the best opportunities in the United States for both recreation and relaxation in an inspiring natural setting. Enjoy the many delights of spring during a weekend or week-long visit. Check out VisitAdirondacks.com for lodging packages and more.
###
Contact: Rebecca Steffan (518) 523-9258 Rebecca@InphormInc.com