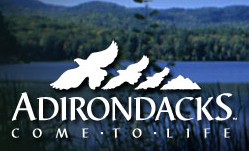 Inaugural Adirondack Heritage Arts Festival & Shakespeare in the Park Debut
Adirondack Region, N.Y. – The Adirondack Arts community announces its 2011 summer season highlights, featuring Shakespeare in the Park, Saranac Lake Village Art Walks, free concert series and a new Adirondack art festival that celebrates the artistic history and community of the Adirondacks.
This summer, sit back and enjoy the rich cultural scene in this New York State Park. Experience the transformative power of the arts through Adirondack arts festivals, events and special performances. Check out VisitAdirondacks.com for more information.
Arts in the Park - Summer 2011 highlights:
The inaugural Adirondack Arts Heritage Festival in Saranac Lake is slated for June 26- July 4. For nine days, 35 uniquely Adirondack activities span a range of art forms, from fly fishing to historic Saranac Lake walks, to Cure Cottage lore. Join the Adirondack arts community in Saranac Lake for the first heritage celebration of the arts, culminating with a July 4th Parade of Boats on Lake Flower, concert and fireworks.
Free summer concert series kick off every summer in communities throughout the Adirondack Park.  In June, Songs at Mirror Lake Music Series kicks off a summer of free musical performances in Mid's Park on Main Street, Lake Placid. This free concert series runs every Tuesday through August. The Lake Placid Sinfonietta will also perform six free Wednesday night concerts in Mid's Park July through August. Offering classical music fare, the Sinfonietta is the Orchestra of the Adirondacks. 
Enjoy the Adirondack Lakes Summer Theatre Festival, featuring 42 performances of six productions in 18 Adirondack towns. Based in Blue Mountain Lake, the theater troupe's festival line-up includes:  Romeo & Juliet, A Funny Thing Happened on the Way to the Forum, Violet, The Conference of Birds, Movie Madness Cabaret and The Rocky Horror Picture Show – Live in Concert. For performance dates and locations, log onto AdirondackExperience.com for more information. At the Charles R. Wood Theater near Lake George, the Adirondack Theatre Festival will present The K of D, a ghost story and one-woman play, June 29-July 2.
Join in a tradition 40 years in the making during the Lower Adirondack Regional Arts Council's Annual Arts Festival June 11-12 in Glens Falls. This two-day festival features juried arts and craft shows, family activities, food and entertainment. For a complete list of summer concert series, arts festivals, workshops and museum exhibits, log onto VisitAdirondacks.com and map your trip using our interactive trip planner.
The Adirondack Region is a six-million-acre park offering limitless recreation amid 2,000 miles of hiking trails and 3,000 lakes and ponds. Part of the largest temperate forest in the world, the Adirondack Region is also home to 100 towns and villages. The Adirondack Region is a unique park offering year-round recreation and events. Search events, attractions and Adirondack vacation packages at VisitAdirondacks.com. 
###
Contact:
Rebecca Steffan
Inphorm PR
(518) 523-9258