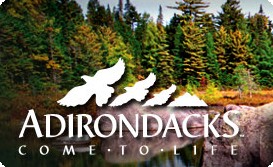 ADIRONDACK REGION, N.Y.
May 6, 2009 - While it can seem like the opportunity for outdoor adventure is shrinking as more and more wilderness area succumbs to development - the six-million acre Adirondack Region of Northern New York is rapidly gaining notoriety as an adventure destination with more than enough room for everybody.
National Geographic Adventure's
April/May 2009 issue selected its picks for the
"50 Best American Adventures"
and named
"Canoeing the Adirondacks: New York"
as the 5
th
Best Adventure. The Region's long history of preservation and constitutional protection as "Forever Wild" has allowed private lands to open to the public to the tune of over a million acres in the past 10 years alone. A recent state acquisition opened up a flat-water paddling circuit nestled between the High Peaks and Five Pond Wilderness.  The new route takes four days and loops through numerous ponds, brooks and outflows, such as: Rock Pond, Lake Lila, Bog River and Round Lake. Additionally, another 44,000 acres of private timberland opened for hiking, canoeing and climbing through the Black Brook, Altamont and Kushaqua tracts of the northern Adirondacks. "With such abundant wilderness paddling opportunities right here in northern New York's Adirondacks, there's no reason to travel any further than your own back yard to experience  the wonders of back-country paddling," Ron Ofner, director of the Adirondack Regional Tourism Council, said. The Adirondack Park, named for the Adirondack Mountains that lie within its boundary, offers some of the best opportunities in the United States for both recreation and relaxation in a superb natural setting. The Park is larger than Yellowstone, Yosemite, Glacier, Grand Canyon and Great Smokies combined. Its six-million-acre wilderness areas are an outdoor-lover's paradise and the Adirondack Regional Tourism Council can provide information about planning a vacation in the region. Call 800-487-6867 or log onto
VisitAdirondacks.com
for videos, package listings, events, activities, restaurants, lodging and maps.
###
Contact:
Rebecca Steffan Inphorm Inc. (518) 523-9258
Rebecca@Inphorminc.com
.