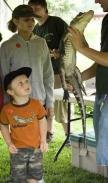 Blue Mountain Lake, N.Y.
- Kick-off summer with an action-packed day for the whole family! Join the Adirondack Museum for Familypalooza 2012 on Saturday, July 7. The Adirondack Museum invites children age 17 and under to visit free of charge for this special event. Familypalooza will be a full day of outdoor family fun, adventure and exploration at the Adirondack Museum. Music will be provided by The Zucchini Brothers with their program "The Beatles of Kids' Music" at 12 p.m., 1 p.m. and 2 p.m. Preview The Zucchini Brothers online at
http://zucchinibrothers.com/
.  The Utica Zoomobile will return with animals of New York State, and special programs from 11 a.m. to 3 p.m. Children can jump and tumble in the bounce house, and play at the museum's Tot Lot and Little Log Cabin. Families can go on an Adirondack scavenger hunt together, exploring the museum as they go.  Smokey the Bear will be making a rare appearance at the museum as well. There will be face painting, arts & crafts, s'more making and more! The Adirondack Museum is open 7 days a week, from 10 a.m. - 5 p.m., through October 14.  The museum will close at 3 p.m. on August 10 and September 7 for special event preparations. The Adirondack Museum, accredited by the American Association of Museums, offers 65,000 square feet of exciting exhibitions housed in twenty-two modern and historic buildings. Visitors can explore how people have lived, worked, traveled, and played in the Adirondacks from the 19
th
century up to today. The museum is supported in part by public funds from the New York State Council on the Arts, a State Agency. For additional information, visit
http://www.adirondackmuseum.org/
or call (518) 352-7311.
###
Contact
: Kate Moore, Marketing Manager (518) 352-7311, ext. 109;
kmoore@adkmuseum.org
Adirondack Museum, Blue Mountain Lake, N.Y. 12812