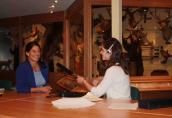 Blue Mountain Lake, N.Y.
- David M. Kahn, Executive Director of the Adirondack Museum, announced has announced that the museum will launch an exciting new audio tour when the museum reopens for the season on Friday, May 25, 2012. Visitors will be invited to take a fresh look at the Adirondack Museum using the terrific new tour.  The voices of real people who live in the Adirondacks today will guide visitors to a deeper understanding of the museum's exhibitions, it dramatic setting, and what makes the Adirondacks unique. "The audio tour will add another dimension to an already fantastic museum experience," said Kahn. "People's authentic stories will enable our visitors to think about the Adirondacks past, present, and future from intriguing perspectives." Adirondackers' personal stories will be related by many including: Kevin Bacon, actor;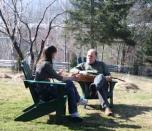 John Collins, Blue Mountain Lake Resident; Martha Foley, News Director, NCPR; Allison Warner, boat builder; Dan Moore, logger; Steven Tucker, farmer; John Fadden, Six Nations Indian Museum; Marty Podskoch, author; Phillip Terrie, author and Environmental Historian, and many more. Preview the tour online at
http://www.adirondackmuseum.org/
. The audio tour will be offered free of charge to visitors with museum admission. The tour has been generously sponsored by National Grid as well as additional individuals and foundations.   It was produced by Richard Lewis Media Group of Watertown, MA, and will be available via Acoustiguide Audio portable devices and as a downloadable app for smartphones. The Adirondack Museum reopens for its 55
th
season on Friday, May 25, and is open 7 days a week, from 10:00 a.m. - 5:00 p.m., through October 14.  The museum will close at 3 p.m. on August 10 and September 7 for special event preparations. The Adirondack Museum, accredited by the American Association of Museums, offers 65,000 square feet of exciting exhibitions housed in twenty-two modern and historic buildings. Visitors can explore how people have lived, worked, traveled, and played in the Adirondacks from the 19
th
century up to today. The museum is supported in part by public funds from the New York State Council on the Arts, a State Agency. For additional information, visit
http://www.adirondackmuseum.org/
or call (518) 352-7311. ###
Photo captions
: Audio tour: Allison Buckley, Adirondack Council, with Kezia Simister, Richard Lewis Media Group. Audio tour 2: Dan Berggren, singer-songwriter, with Kezia Simister, RLMG *
For high resolution copies of these images, please email
kmoore@adkmuseum.org
.
Your gift, no matter the size, makes a difference! Please donate to the Adirondack Museum Annual Fund today at
http://www.adkmuseum.org/join_and_support/gifts/annual_fund/
.
Contact
: Kate Moore, Marketing Manager (518) 352-7311, ext. 109
kmoore@adkmuseum.org