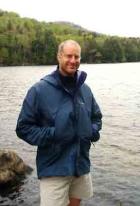 Blue Mountain Lake, N.Y. -
Join the Adirondack Museum for the 2012 Cabin Fever Sunday series. The next program "Children and Nature: The ABCs of Observation" with educator Paul Hai, will be held on Sunday, April 22, 2012. This special program for families, held at Crandall Public Library in Glens Falls, N.Y., celebrates Earth Day 2012.
The ABCs of Observation
is a fully interactive presentation engaging individuals of all ages in rediscovering their skills as keen observers of the natural world. It's some of the most fun you'll have indoors learning about the outdoors. This program will be held at 1:30 p.m. in the Community Room at Crandall Public Library, Glen Street, Glens Falls, N.Y. The program will be followed by outdoor activities in Crandall Park. Cabin Fever Sundays are offered at no charge to museum members or children of elementary school age and younger.  The fee for non-members is $5.00.  For additional information, please call (518) 352-7311, ext. 128 or visit
http://www.adirondackmuseum.org/
. Presenter Paul Hai is co-founder of Children in Nature, New York and serves on the Grassroots Leadership Team of the Children & Nature Network. Paul is passionate about creating interdisciplinary programs using natural history, inquiry-based activities and outdoor experiences as the foundations for teaching the process of science, exploring the Adirondack experience, and for getting children outside. This commitment to using informal science education as a vehicle for reconnecting children to nature will form one of the key programmatic themes of Northern Forest Institute's new
Adirondack Interpretive Center
. Cabin Fever Sunday programs are sponsored by the New York Council for the Humanities, and the Glenn and Carol Pearsall Adirondack Foundation dedicated to improving the quality of life for year-round residents of the Adirondack Park:
http://www.pearsallfoundation.org/
. The Adirondack Museum, accredited by the American Association of Museums, shares the history and culture of the Adirondack region in 22 exhibits on a 32-acre campus in the Central Adirondacks.  The museum is supported in part by public funds from the New York State Council on the Arts, a State Agency. For additional information, visit
http://www.adirondackmuseum.org/
or call (518) 352-7311.
###
Contact
: Kate Moore, Marketing Manager (518) 352-7311, ext. 109;
kmoore@adkmuseum.org