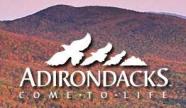 From Cream Cheese to AppleFolkFest -Celebrate Fall in New York's Six-Million-Acre Park
Adirondack Region, N.Y. 
- This fall, journey to the Adirondack Region of Northern New York, experience the beautiful transformation of
Adirondack fall foliage
across the six-million-acre forest and enjoy family-friendly events and harvest festivals. From reenactments that make history come alive, and events that offer opportunities for new family traditions, to outdoor activities that spice up chilly autumn days, the Adirondack Region offers an array of fall festivals in the Adirondacks to choose from, including: Family-friendly fall
events in the Adirondacks
include:
Taste the Adirondacks - September 8 at the Harrietstown Hall in Saranac Lake. Sample delicious cuisine prepared by top Adirondack chefs and taste dishes from a variety of restaurants creating everything from haute cuisine to simple farm-fresh fare.
Adirondack Balloon Festival - September 19-22 in Glens Falls and Queensbury. Features hot air balloon rides, family-friendly activities and more.
9th Annual Cream Cheese Festival - September 21 in Lowville. One of the most unique fall events in the Adirondacks, enjoy live music, cream cheese treats, food and craft vendors, as well as children's activities.
Remington Arts Festival - September 26-27 in Canton. Activities include an art show, carriage and wagon rides, walking tours of historic Canton, farmers' market and live entertainment.
Annual Harvest Festival & Civil War Living History Encampment - September 28 in Malone. Enjoy pumpkin painting, readings of Farmer Boy, food and beverages.
4th Annual Great Adirondack Moose Festival - September 28-29 in Indian Lake. Celebrate the return of moose to the Adirondacks with family-friendly activities, guided tours through the Moose River Plains, an old-fashioned turkey shoot and more.
Lake Champlain Windsurfing Festival - September 28-29 in Plattsburgh on Lake Champlain. Skim across the water during family fun races, and enjoy demonstrations and clinics, music and barbecue.
Fort Ticonderoga's Heritage Harvest and Horse Festival - September 28 in Ticonderoga. Enjoy equestrian sports, family-friendly activities, Heroic Corn Maze adventures and more.
Adirondack Coast Wine, Cider & Food Festival - October 12 at the Crete Civic Center in Plattsburgh. Featuring locally sourced foods and drinks, samples, demonstrations and vendors.
Penfield Homestead Museum's AppleFolkFest - October 13 at Crown Point. Enjoy a craft fair, flea market, music, homemade baked delicacies and apple desserts.
The Adirondacks are home to a variety of wineries,
microbreweries
and cider makers, as well as a distillery. Enjoy an Adirondack wine tour along the Adirondack Coast of Lake Champlain, sample small-batch beers in the Lake George Region, and tour small operations and taste seasonal drinks filled with the tastes of fall. For more information about visiting the Adirondacks,
fall lodging packages
and upcoming events, go to visitadirondacks.com.
About the Adirondacks:
The Adirondack Region is a six-million-acre park offering limitless recreation amid 2,000 miles of hiking trails and 3,000 lakes and ponds. Part of the largest temperate forest in the world, the Adirondacks are also home to 103 towns and villages. Connect with the Adirondacks on Facebook.com/visitadirondacks or Twitter.com/visitadks, and search Adirondack events, attractions and Adirondack vacation packages at VisitAdirondacks.com. 
###
CONTACT
: Rebecca Steffan
rebecca@inphorminc.com
(518) 523-9258