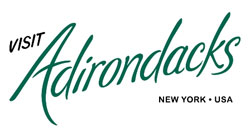 Request a FREE Adirondack Snowmobile Trail Map at VisitAdirondacks.com
Adirondack Region, N.Y. –  Earlier this week, Governor Andrew M. Cuomo's launched a new I Snowmobile NY campaign from the Tug Hill Plateau, which receives some of the state's deepest snowfalls, to promote New York's extensive network of snowmobiling trails.
Home to hundreds of miles of snowmobiling trails that connect to statewide and Canadian trail corridors, the Adirondacks offer one of the East Coast's premier snowmobiling destinations with connections to more than 10,000 miles of groomed and backcountry snowmobile trails.
With snow falling across the Adirondacks, there's no better time than now to experience an Adirondack snowmobiling adventure.
Request a FREE snowmobiling trail map at visitadirondacks.com/brochures/free-sled-map, and find trail information as well as nearby amenities including restaurants and lodging properties.  
The Top Adirondack Areas for Snowmobiling Right Now Include:
•          Moose River Plains in the Adirondack Wild – According to Hamilton County's Tourism Office, the conditions are fair and expected to improve with snowfall continuing through the weekend. The Plains represent the largest block of remote Adirondack public land accessible by snowmobile. Access via State Route 28 in Inlet.
•          Adirondacks Tug Hill Region – Conditions continue to be favorable, and with snow in the forecast, coverage on trails will increase into the weekend. Expect conditions to include non-groomed areas on certain trails around the Tug Hill Plateau.
With current temperatures expected to remain below zero through the end of the week and into the weekend, snowmobilers are encouraged to dress warmly and limit extended exposure to the cold. For additional information on all the places to go snowmobiling in the Adirondacks, go to VisitAdirondacks.com to start planning a NY snowmobiling experience.
About the Adirondacks: The Adirondack Region is a six-million-acre park offering limitless recreation amid 2,000 miles of hiking trails and 3,000 lakes and ponds. Part of the largest temperate forest in the world, the Adirondacks are also home to 103 towns and villages. Connect with the Adirondacks online at Facebook.com/visitadirondacks or Twitter.com/visitadks. Search Adirondack events, attractions and Adirondack vacation packages at VisitAdirondacks.com. 
###
CONTACT: Rebecca Steffan (518) 523-9258 rebecca@inphorminc.com VisitAdirondacks.com