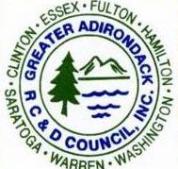 Lake Placid, N.Y.
- The Greater Adirondack Resource Conservation and Development Council (RC&D) would like you to join us Friday July 29, 2011 to celebrate the Adirondacks water resources at Adirondack Waterfest, a fun filled day for the whole family!  This is a FREE family event that will be held at the Lake Placid Town Beach from 10 am - 4pm. Held in partnership with the Mirror Lake Watershed Association, the Lake Placid Shoreowners' Association and the Mill Pond Neighborhood Association, Adirondack Waterfest will offer several activities for locals and tourists alike.  There will be an array of exhibitors including The Wild Center, the Nature Conservancy, the Lake Champlain Basin Program, and local River and Lake Associations. Individuals can learn about local water resources, recreation, water quality, water monitoring, shoreline management and much more. Fiddlehead Creek Native Plant Nursery will be selling an array of native plants for your garden. A Kids Area will be offered with activities, games, prizes, t-shirt printing and a bouncy house. There will also be live music throughout the day supplied by local radio station WSLP. For more information about the Adirondack Waterfest event please contact Beth Gilles at (518) 668-5773.
###
About the Greater Adirondack RC&D Council
The mission of the RC&D Council is to promote the wise use of natural resources and to enhance the economic vitality of the Greater Adirondack Region. For more information, visit the RC&D website at
http://www.greateradirondackrcd.org/
.
Contact
: Contact: Beth Gilles Committee Chair 518-668-5773
bgilles_rpb@verizon.net