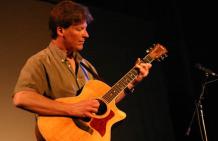 Sackets Harbor, N.Y.
- Singer-songwriter Scott B. Adams has performed at the White House. His compositions inspired by New York's landscapes and history have been featured by NPR's "Echoes" and in the PBS Special "Adirondack Wild." He has appeared with the Syracuse Symphony and the Buffalo Festival Orchestra. On March 20th he will share his music in Sackets Harbor, NY, from 12noon to 3 pm at the Great Lakes Seaway Trail Quilt Show at the Seaway Trail Discovery Center. Adam's live performances have been described as carefree, haunting, reflective, refreshing, and lush crossing traditional boundaries by incorporating elements of folk, jazz, Celtic, classical and pop music. He accompanies his masterful guitar work with poems, historical snippets and a tongue-in-cheek ode to mosquitoes, black flies and bears. He records his music at his Acoustic Barn in Ovid in New York's Finger Lakes region. The March 19-20, 2011 Great Lakes Seaway Trail Quilt Show features New York's published quilters, speaker presentations on quilting techniques and fabric design, demonstrators, and vendors in the 3-story, 9-room Seaway Trail Discovery Center that is accessible and has an elevator. Show admission is $5 for the two days and includes speakers' presentations on both days; those with active or retired military ID receive $1 off admission. The show is co-sponsored by the Seaway Trail Foundation, Orleans County Tourism and the Country Barn Quilt Trail, a 22-mile loop tour off the Great Lakes Seaway Trail byway to more than 40 barns and buildings adorned with painted quilt block patterns. Learn more about the Great Lakes Seaway Trail and the Country Barn Quilt Trail online at
http://www.seawaytrail.com/quilting
.
###
Contacts:
Teresa Mitchell (315) 646-1000, x202 Daryl Giles (315) 646-1000, x200 Scott B. Adams, 607-227-0637