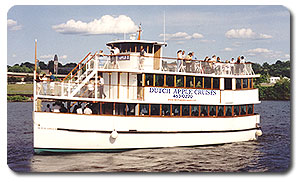 Dutch Apple Cruises and Albany Trolleys are hosting a special day where Capital Region residents can commute to and from work in Albany or Troy (in either direction) on board the Dutch Apple. In honor of the Hudson-Fulton-Champlain Quadricentennial, this event will recreate the 19th and early 20th Century experience of commuting between these two cities by Hudson River passenger boat.
WHAT:
          Riverboat commuter service returns to the Capital Region for one day.
WHEN:
           Wednesday, May 13.
Morning cruise leaves Albany at 6:45 a.m. and arrives in Troy at 7:25 a.m.
The Dutch Apple leaves Troy at 7:40 a.m. and returns to Albany at 8:30 a.m. The Albany Trolleys will provide shuttle service from the Dutch Apple to select downtown Albany locations. Free coffee, bagels and newspapers aboard.
The after-work cruise departs Albany at 5:25 p.m. and arrives in Troy at 6:05 p.m. The boat leaves Troy at 6:30 p.m. and arrives back in Albany at 7:10 p.m. The after-work cruise will feature complimentary finger foods, a cash bar and live music by the Clarinet Marmalade (a trio of members from the Skip Parsons Riverboat Jazz Band). The Albany Trolley will pick up passengers for the cruise starting at 4:45 p.m. at select downtown Albany locations.
ADMISSION:
$25 round-trip | $15 one-way. Pleasure passengers are welcome on the morning and after-work cruises, but must board in Albany for a round-trip. To purchase tickets, call the Dutch Apple at 518-463-0220.
DETAILS:
       Although the Dutch Apple is not powered by steam, this event will recreate the 19th and early 20th century experience of Hudson River steamboat travel. Steamboats provided regular passenger service to and from Albany, starting with Robert Fulton's first steamboat voyage in 1807 and lasting until 1948. Some area residents, including Skip Parsons, remember riding the Albany steamboats in their youth.                         This event Is being coordinated by Duncan Crary Communications, with the support of a $500 grant from the Hudson River Valley Greenway.
MORE INFO:
www.duncancrary.com/DutchApple/
###
MEDIA CONTACTS:
Duncan Crary Duncan Crary Communications 518-274-2723
dcc@duncancrary.com
Kathy Condon Condon Communications For The Albany Aqua Ducks & Trolleys 518-436-1103
kcondon@netheaven.com