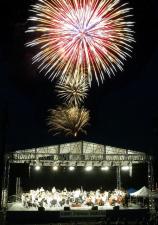 Music sweeps Albany as summer approaches.  For additional listings, visit our events calendar at www.albany.org. 
Albany, N.Y.
- With summer fast approaching, it's time to check out the great lineup of musical acts coming to New York's Capital City!
ALIVE at FIVE
Enjoy a free night of music on the shores of the Hudson at the Albany Riverfront Park amphitheatre. Kick back with friends, and enjoy food and beverages from a variety of vendors. There's no better way to kick off the weekend than at Alive at Five. Alive at Five runs every Thursday from June 7 through August 9. All concerts will be held at Albany Riverfront Park. A rain location is set at the Corning Preserve Boat Launch under the I-787 Colonie Street overpass. Moving to the rain location is determined each week on the morning of the event to ensure proper set-up time.
THE JUNE LINE UP
INCLUDES:
6/7 | 
Dave Mason (of Traffic) 
Hudson Riverfront Park | Albany | (518) 434-2032 With a career spanning more than 50 years, Rock and Roll Hall of Famer Dave Mason has been hailed by fans and critics alike as one of the most talented guitarists and songwriters in the world. 6/14 | 
Bootsy Collins with Soul Session
Hudson Riverfront Park | Albany | (518) 434-2032 Bootsy Collins' unmistakable bass playing and psychedelic sense of style have made him a true trailblazer throughout his 40 years in the music industry. Recording with James Brown's Original J.B.'s, legendary Rock and Roll Hall of Fame inductees Parliament-Funkadelic, and his own wildly inventive, Grammy-winning groups, Bootsy helped invent the sound of funk while redefining the role of bass guitar in popular music.  6/21 | 
Patty Smyth & Scandal 
 Hudson Riverfront Park | Albany | (518) 434-2032 Rock and roller Patty Smyth is the powerful voice behind enduring hits like "The Warrior", "Love's Got a Line on You", "Goodbye to You" and the smash duet with the Eagles' Don Henley, "Sometimes Love Just Ain't Enough". 6/28 | 
Dickey Betts & Great Southern 
Hudson Riverfront Park | Albany | (518) 434-2032 A true southern rock icon and founding member of the Allman Brothers Band, Dickey Betts is one of the most influential guitarists of all time.  
Other Arts and Entertainment Events In and Around Albany:
  Looking for something fun to do the other 6 days of the week?! Enjoy some of the most intriguing exhibits in the museum world, here in Albany or venture to one of many other concerts playing throughout the Albany in June.  5/31-6/6 |
NYS Museum Week
NYS Museum | Albany  NYS will celebrate its museums with special events and exhibitions at museums throughout the state. In Albany, you can visit the New York State Museum, Albany Area Heritage Visitors Center, Albany Institute of Art & History, and the USS Slater/Destroyer Escort Historical Museum. For a complete list of participating museums, please visit the NYS Museum Week website. 6/9 |
Art on Lark
Lark Street | Albany | (518) 434-3861 Hundreds of artists, musicians, dance and theatre performances, along with many special events fill the road to showcase Lark Street as of Albany's Arts District. 6/16 |
Flogging Molly
Palace Theatre | Albany | (518) 465-3334 Whether it's a driving anthem like "Black Friday Rule" or the upbeat duet with Lucinda Williams, "Factory Girls", the band's only criteria for its music is simple and bone-deep: that it matter. Tickets are sure to go quickly for this Celtic Rock Band. 6/17 | 
 Albany Father's Day Concert
Hudson Riverfront Park | Albany | (518) 434-2032 Celebrate Dad with a concert and fireworks fit for a king! 6/22-24 |
Old Songs Festival of Traditional Music & Dance
Old Songs is a family-friendly festival of folk, traditional, Celtic and world music and dance, known for its relaxed atmosphere, interactive sessions and workshops, hands-on experience and participatory nature.   6/29 |
Aerosmith & Cheap Trick
Times Union Center | Albany | (518) 872-0744 "Dream on" as this legendary band returns to the Times Union Center for one night only, along with Cheap Trick.
###