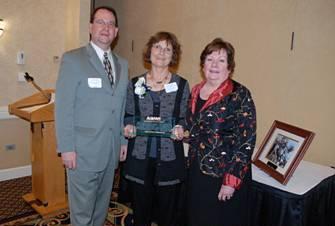 Albany, N.Y.
- The annual meeting of the Albany County Convention & Visitors Bureau (ACCVB), held at the Albany Marriott, was not only a wrap-up of the year, but also an opportunity to recognize the outstanding work of multiple Capital Region citizens including the Hospitality Excellence Award Winner and the 2010 Albany Ambassadors. The ACCVB Hospitality Excellence Award is the only award developed solely to recognize excellence in travel and tourism in the Capital Region. This year's recipient, the Albany Institute of History & Art, excepted by Institute Director Christine Miles, has been instrumental in the growth and prosperity of the hospitality industry in the Capital Region and beyond. Albany Ambassadors are volunteer meeting planners who provide the Capital Region with new and diverse opportunities to host meetings, reunions, conferences, and sporting events.  This marks the 18
th
year that the ACCVB has honored an exceptional group of Albany Ambassadors.  To receive the designation of Albany Ambassador, one must be an event or committee volunteer and the meeting must realize in excess of 100 room nights.   The 2010 Albany Ambassadors were responsible for bringing over 10,170 delegates and visitors, as well as over 3,090 room nights to the Albany area throughout 2010.    The 2010 Albany Ambassadors are:
Ms. Joy Smolinski, Coordinator, & Caleb Nelson, NE Regional Crossfit Qualifier
Mr. Al Ruth, NY VI President, Northeast Conference Blue Knights
Dr. Alain C. Diebold, 5th International Conference on Spectroscopic Ellipsometry
Mr. Yono Purnomo, Mr. Todd Reichelt, Mr. Gary Smith, Mr. Joseph Culver, and Planning Committee, Annual Albany Chefs Food & Wine Festival
Ms. Cathy Sliwinski, Race Director, Mohawk Hudson River Marathon & Half Marathon
Mr. Dale Neimeyer, Planner, National Conference, Registry of Interpreters for the Deaf
Mr. Jeffrey Stark, Secretary, Higher Education Data Warehousing Forum
Ms. Melissa Bergin, Coordinator, School Library Media Specialists Conference
Ms. Marie Rabideau & Mr. Noah Simon, 34th SUNY Career Development Officers Conference
Ms. Kathy Marco, Guilderland United Soccer Tournament
***
The Albany County Convention & Visitors Bureau, Inc. was established in 1976 to promote the civic and commercial progress of the community through increased development of conventions and tourism. ACCVB currently represents more than 300 member businesses and assists each year in hundreds of regional meetings. ACCVB also operates the Albany Heritage Area Visitors Center, Henry Hudson Planetarium and the Albany International Airport Information Center. For more information, call 518-434-1217 or 800-258-3582 and/or visit
http://www.albany.org/
.
Photo
: Hospitality Excellence Award, Albany Institute of History & Art (AIHA) L-R, Michael Gulotty-Hampton Inn & Suites Albany Downtown, Christine Miles-AIHA, Michele Vennard-ACCVB
Contact
: Elizabeth Bovill Marketing / PR Manager Albany County Convention & Visitors Bureau 25 Quackenbush Square, Albany, NY12207 (518) 434-1217 x203 * 800-258-3582
http://www.albany.org/