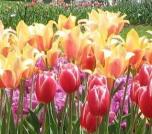 Albany, N.Y.
- You know it's May in Albany when the tulips are blooming and the streets are scrubbed for an incoming Tulip Queen!  (For additional events listings, visit
www.albany.org
)
64th Annual Tulip Fest Weekend: 
5/11-5/13 |
64th Annual Tulip Festival
Washington Park | Albany | (518) 434-5411 More than 100,000 people will fill Washington Park over Mother's Day weekend to enjoy concerts, crafts, meals, and more, while enjoying the view of 200,000 tulips. 5/11 | 
The Scrubbing of State Street
State Street | Albany |  A Dutch tradition carried on throughout the ages - Scrubbing of State Street is now a symbolic ritual in preparation of the upcoming Tulip Festival. 5/12 |
Fountains of Wayne 
Washington Park | Albany | (518) 434-5411 The gold-certified, power-pop quartet, Fountains of Wayne headlines the 64th Annual Tulip Fest, the Grammy-nominated group takes the main stage at 4 p.m. 5/12 |
Tulip Queen Coronation
Washington Park | Albany | (518) 434-5411 Five hardworking young women will compete, as one is crowned Tulip Queen and the other four will become members of her court. Helping to bring good will to the Capital Region. 5/12 |
Royal Tulip Ball
Wolferts Roost Country Club | Albany | (518) 388-9240 An elegant evening of dining and dancing to honor the new Tulip Queen and Court. Proceeds benefit the Albany Police and Fire Foundation. Tickets are required and can be purchased by calling Capital Affairs at the number listed above. 5/13 |
Mother of the Year Ceremony
Washington Park | Albany | (518) 434-2032 Albany Mayor Jerry Jennings will recognize five of the most outstanding mothers in the Capital Region.
More Exciting Events in Albany: 
5/1-5/27 | 
God of Carnage
Capital Rep | Albany | (518) 445-7469 The NY regional premier about "a comedy of manners....without the manners." 5/5 |
Albany Symphony Orchestra Simply Sinatra
Palace Theatre | Albany | (518) 465-3334 The Albany Symphony Orchestra presents Sinatra and standards interpreter "Steve Lippia - "A modern Sinatra, a gifted Performer, and a special performance...he does it his way."  5/19 |
Gordon Lightfoot
Palace Theatre | Albany | (518) 465-3334 The five time Grammy nominee comes to Albany for one night only. With his hits - "If You Could Read My Mind," "Sundown," and "The Wreck of the Edmund Fitzgerald," Gordon Lightfoot, is a show not to miss! 5/19-5/20 |
NY Heritage Weekend
Throughout New York State For one weekend only, the many regions of the State of New York will join together ti celebrate tge history of the Empire State, through a series of events. A number of events are taking place throughout Albany and the Capital Region. Please visit the NY Heritage Weekend website for more details. 5/22 |
Michael Jackson: The Immortal Tour
Times Union Center | Albany | (518) 872-0744 Cirqe' du Soleil presents an electrifying production combining Michael Jackson's music and choreography with Cirque du Soleil's creativity for a one-of-a-kind experience. 5/31-6/6 |
NYS Museum Week
NYS Museum | Albany  NYS will celebrate its museums with special events and exhibitions at museums throughout the state. In Albany, you can visit the New York State Museum, Albany Area Heritage Visitors Center, Albany Institute of Art & History, and the USS Slater/Destroyer Escort Historical Museum. For a complete list of participating museums, please visit the NYS Museum Week website.
###