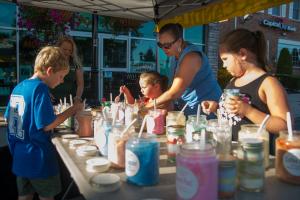 Riverhead, NY (June, 2020) - The Downtown Riverhead Business Improvement District [BID] announces the revival of its largest event,  Alive on 25 [AO25], returning for four Thursday nights in July and August, 2021. It's the biggest and most anticipated event in Riverhead!
The series kicks off July 1st with fireworks scheduled for 9:15pm. Three events will follow on July 15, 19, and August 12, 2021 (rain date August 19). All events run from 5-9:30pm along Peconic Avenue and Main Street, between Griffing Avenue (west) and Union Avenue (east).
AO25 is a free walkable, pop-up street festival annually offering local craft beverages, food trucks, dining, street vendors, local artisans, face painters, stilt walkers, jugglers and activities the whole family can enjoy. Live musicians perform on six stages. Classic cars fill Peconic Avenue on July 1st; followed by a designated 'kids zone' for 7/15, 7/29, 8/12 (new for 2021). 
AO25 began as a dedicated initiative of the Riverhead BID in hopes of growing the downtown district into a place where people want to live, work, play and learn. By utilizing creative placemaking strategies, the BID's annual events have had much success in stimulating economic growth, while also providing many benefits for visitors, the community and historic downtown. 
The 2020 COVID-shutdown forced AO25 to take a back seat while the BID went to great lengths in developing safe alternatives to help local businesses stay afloat. Creative fundraising, repurposing unused event funds and securing grants all allowed the BID to recirculate over $100,000.00 directly into our downtown businesses. Summer of 2020, the Riverhead BID 'reinvented the wheel' and positioned AO25 as Dine on 25 [DO25], an innovative solution-based series of outdoor dining events to help local eateries and downtown businesses recover losses during what is normally the highest earning east-end tourism season. DO25 was a welcomed and safe success in stimulating the downtown economy.  We are happy to report that all BID-district businesses who participated in our 2020 programs still remain open for business today.
As we re-emerge post-COVID, we are anticipating an exceptional turnout for our 2021 events. The lack of festivals on Long Island for summer 2021 has positioned the Riverhead BID as a pioneer of renewal; a game-changer for the organization and community. AO25 was the first street festival scheduled to return for early-summer. Gone are the days of Riverhead trailing behind other downtowns and events! With a revised safety and operational plan in hand, the Riverhead BID won over local and regional officials, receiving an overwhelmingly positive response, and approval for bringing AO25 back to life. The BID was invited by neighboring organizations to guest-speak at board and community meetings, offering guidance on reopening their towns and events
Sponsors are necessary for the BID to sustain their free community-events and remain available through the summer. 2021 sponsors are: Peconic Bay Medical Center, Exclusive Seasonal; Robert James Salon, Silver; Long Island Needs a Drag Strip, Silver; Dime Bank, Silver; Riverhead Building Supply, Bronze.
"We are excited to support our vibrant community, filled with people whose care we feel privileged to provide," Amy Loeb, Executive Director, PBMC. "A year ago today, gathering for an event like this would not have been possible. We all worked together to keep our neighbors safe and healthy. This event is a tremendous achievement, and we are proud to be a part of it!"
Robert James Salon is sponsoring in memory of salon owner, former President and Executive Director of the Riverhead BID and pioneer for downtown Riverhead revitalization, the late Mr. Raymond Pickersgill (lost to COVID April 20, 2020). 
"With some amazing angels blessing us and donating in my father's memory, we decided that the most appropriate way to continue his honor is to support what has always been his passion - that Downtown Riverhead be Revitalized," Lisa Pickersgill, Owner, Robert James Salon. "He had a large part in bringing events to our downtown. Sponsoring our community events is the most appropriate way to continue his legacy. Supporting all who continue to volunteer and work so tirelessly to achieve his goals will surely help to make Downtown Riverhead the most amazing destination, and a community that we all want to live, work and play in."
LI Needs a Dragstrip is placing an emphasis on giving back to the Riverhead community as they gear up for their inaugural Race Track Not Street series at EPCAL, Calverton, NY. "We're bringing the heritage of racing back to where it all started," John Cozzali, Founder, LI Needs a Dragstrip. 
IMAGES: https://drive.google.com/drive/folders/1Zkj6bLLf27DKX4syGFlRh5t6mo2sTFay?usp=sharing
Riverhead Business Improvement District (BID)'s mission is to expand sustainable economic activity in historic downtown Riverhead, New York, create and expand business, and develop jobs for community residents. Riverhead BID [downtownriverhead.org] is a non-profit special tax district management association fostering downtown revitalization and economic development. For more information call 631.440.1350 or email hello@downtownriverhead.org f./@downtownriverheadbid i./@downtownriverhead
Located in Riverhead, NY, Peconic Bay Medical Center is a 200-bed nonprofit hospital committed to providing exceptional care and improving the health of the communities it serves. Peconic Bay Medical Center offers wide-ranging, full-scope services and programs, including advanced surgical, cardiac, orthopedic and women's health care, comprehensive inpatient medical care, palliative care and an extensive range of outpatient services, along with state-of-art technology. Peconic Bay Medical Center joined Northwell Health in 2016. For more information, visit PBMCHealth.org and follow us @PeconicBayMedicalCenter on Facebook, Instagram and LinkedIn.
Press Contact: Kristy Verity,  hello@downtownriverhead.org