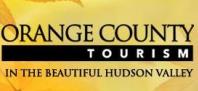 Snow or not, frolic and play in Orange County, NY
Hudson Valley, N.Y.
- When exactly will snow blanket the Hudson Valley this winter? The good news is there's no need to plan your January outings around the forecast. Count on great happenings and cozy comfort in Orange County regardless of the weather. Snow makes the scenic landscape sparkle and ushers in its own special variety of winter activities, but rest assured, the fun is weatherproof.  So come out and play in this winter wonderland just an hour above Manhattan.    Move over Mother Nature, some sites will be making their own snow. At Tuxedo Ridge, the 7 downhill trails, Terrain and Snow Tubing Parks will glisten with the white stuff by late December.  Learn to ski or hone your advanced skills at this beautiful 100-acre Sterling Forest mountain, an easy trip from New York City by car, bus or train. Just a few miles north, Mount Peter, the oldest operating ski area in New York State, welcomes skiers and snowboarders to the same scenic slopes that developed by Macy's Department Store in 1936 to market ski fashion.  After a day on the slopes, snuggle in at one of the nearby Bed and Breakfasts and gear up for another day of outdoor sport with some fine local fare. Warwick is a Mecca for restaurants serving farm-fresh foods from the "Black Dirt" growing region as well as regionally-produced wines and hard ciders. Additionally, two indoor winter farmers markets will offer products from the local bounty from January through March. Pennings Orchard and Farm Market is open from 11AM to 4PM on second Saturdays beginning January 14th. Sample some field-to-table dining at their casual Harvest Grill and Brew Pub. In nearby Pine Island, the Rogowski Farm will be hosting the Pine Island Farmers Market the last Saturdays of the month from 10AM to 3PM. Indulge in a hearty breakfast by the potbelly stove in their rustic farm kitchen before loading up with take-home goodies.  Snowmakers will also be busy grooming the lanes at Orange County's own Tubing and Winter Sports Park. Kids of all ages who meet the 42" height requirement can soar down the long hill in a private tube and ride the cable tow back to the top for 90-minute sessions. What a thrill!  It's best to make advance reservations for this popular weekend and school holiday venue, but if you bring along your own ice skates, sleds or cross-country skis, you can use them at other designated locations within the park. Time will fly. Then, warm up by the beautiful stone fireplace in the lodge, or grab a bite in the restaurant.  It's one-stop shopping for family fun at this beautiful Montgomery location. Winter's a great time for leisurely visits to Orange County's renowned museums and indoor attractions. At the West Point Museum, explore our nation's history as told by art masterpieces and the largest diversified public collection of miltaria in the Western Hemisphere. Check the West Point Tours schedule to view the impressive campus and Cadet Chapel while you're there. On January 15th, step up your USMA visit with John Philip Sousa Marches at the free 3PM concert by the West Point Band in Eisenhower Hall.   Rev up a cold weather weekend with a trip to Motorcyclepedia in Newburgh. Allow plenty of time to peruse the world's largest collection of antique motorcycles at this new 85,000-square foot museum. Even if you're not an enthusiast, the fascinating assortment of memorabilia surrounding the displays piques everyone's interest. Later, compare the historic Indian motorcycles to some of the coolest modern day choppers featured on the Orange County Choppers cable television show. Their showroom is just minutes away.  Escape January's elements at another gem, the Harness Racing Museum and Hall of Fame. All ages will enjoy the interactive exhibits at this state-of-the-art venue promoting the area's trotting horse beginnings. Discover the history of Hambletonian, the granddaddy of Standardbreds. Little theaters and a wide variety of art and racing exhibits tell the story of the sport. Little ones will appreciate the talking horse and dress up costumes. Everyone thrills to the 3-D ride that simulates driving your own horse in a race. Admission is free, leaving you with something to spend in their huge gift shop.  It's a great day of indoor entertainment. Just one letter separates the words wintery and winery.  Fortunately, Brotherhood, America's Oldest Winery, Demarest Hill Winery, Palaia Vineyards and the Warwick Valley Winery & Distillery offer wine tastings on weekends year round. Wind through a picturesque winter scene on an excursion to all four unique wine makers. Enjoy fine dining at Vinum at Brotherhood, or try light local fare from the bistro menu at Warwick Valley's Pane Café. Be sure to catch some great live musical entertainment at Palaia and Warwick Valley on weekends.  Getting back to nature, try some figure 8's at Bear Mountain State Park's beautiful outdoor rink between now and March 4th and sip some hot chocolate at the newly renovated Bear Mountain Inn's 1915 Café. The scenic paved trails of the park are just the place to practice your New Year "get more exercise" resolution. Stroll the zoo (open daily) which houses animals from the Hudson Valley. It's a great place to get a close up look at some amazing New York State wildlife. Winter is always a wonderland here, so come make the best of it. Find a complete list of attractions, lodging and events at www.OrangeTourism.org. For a free copy of the Orange County Travel Guide call 800-762-8687, or email
tourism@orangecountygov.com
. Orange County Tourism is headquarters for tourism in the county and is part of the I LOVE NEW YORK program.
Resources
: Tuxedo Ridge Ski Center, Tuxedo. (845) 351-1122. 
http://www.tuxedoridge.com/
  Mount Peter Ski & Snowboard Area, Warwick. (845) 986-4940. 
http://www.mtpeter.com/
Pennings Farm Market, Warwick. (845) 986-1059. 
http://www.penningsfarmmarket.com/
  Breakfast on the Rogowski Farm, Pine Island. (845) 258-4574. 
http://www.rogowskifarm.com/
  Pine Island Farmers Market, Pine Island. (845) 258-8152.  
http://www.pineislandfarmersmarket.com/
  Orange County Tubing and Winter Sports Park. (845) 457-4949. 
http://www.orangecountynyparks.com/
  West Point Museum, West Point. (845) 938-3590. 
www.usma.edu/museum
West Point Tours, West Point. (845) 446-4724. 
http://www.westpointtours.com/
  West Point Band, West Point. (845) 938-2445. 
www.usma.edu/band
Motorcyclepedia, Newburgh. (845) 569-9065. 
http://www.motorcyclepediamuseums.com/
  Orange County Choppers Showroom, Newburgh. (845) 522-5222. 
http://www.orangecountychoppers.com/
  Harness Racing Museum & Hall of Fame, Goshen. (845) 294-6330. 
http://www.harnessmuseum.com/
  Brotherhood, America's Oldest Winery, Washingtonville. (845) 496-3661. 
http://www.brotherhood-winery.com/
  Demarest Hill Winery, Warwick. (845) 986-4723. 
http://www.demaresthillwinery.com/
  Palaia Vineyards, Highland Mills. (845) 928-5384. 
http://www.palaiavineyards.com/
  Warwick Valley Winery and Distillery, Warwick. (845) 258-4858. 
http://www.wvwinery.com/
  Vinum Café at Brotherhood Winery, Washingtonville. (845) 496-9001. 
http://www.vinumcafe.com/
  Bear Mountain State Park, Bear Mountain. (845) 786-2701. 
http://www.nysparks.com/
  ###
Contact
:  Mary Ann McCarthy (845) 615-3860
mmccarthy@orangecountygov.com