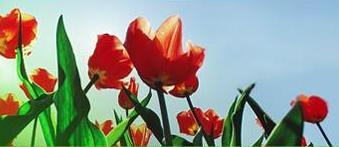 Albany, N.Y. -
Spring has finally sprung in the capital city! After a long, hard winter, it's time to take in all Albany has to offer during one of the most beautiful months of the year. May is full of events for those looking to get out and enjoy the warmer weather. The much anticipated 63rd annual Tulip Festival will offer entertainment on four stages, crafters, food vendors and family fun.  Also in May are the state-wide Heritage Weekend with many local events and the annual Greek Festival at St. Sophia Greek Orthodox Church. May is also a great month for all the music lovers in the area with musical performances for everyone. The capital region will play host to two hit musicals,
Hair
at Proctors Theatre and
Guys and Dolls
at Cohoes Music Hall.  There will also be legendary performers playing in Albany this month including Frankie Valli and the Four Seasons and ZZ Top with Lynyrd Skynyrd.
5/3-5/8 | Hair
Proctors Theatre | 432 State St., Schenectady, NY 12305
http://www.proctors.org/
 | (518) 346-6204 The Public Theater's new Tony-winning production of HAIR is the most electric celebration on Broadway! This exuberant musical about a group of young Americans searching for peace and love in a turbulent time has struck a resonant chord with audiences young and old. HAIR features an extraordinary cast and dozens of unforgettable songs, including "Aquarius", "Let the Sun Shine In", "Good Morning, Starshine" and "Easy To Be Hard".
  5/3-5/22 | Vanguard Designer Showhouse Tours & Special Events
10/12 Stafford Rd. | Loudonville, NY
http://www.vanguardshowhouse.org/
 | (518) 872-1746 The Vanguard Showhouse is an annual benefit for the Albany Symphony Orchestra where a remarkable historic home is renovated by several designers and interior decorators.  There will be tours and seminars offered between May 3
rd
and 22
nd
.
  5/5-5/8 | Ringling Bros. and Barnum & Bailey Circus
Times Union Center | 51 S Pearl St., Albany, NY 12207
http://timesunioncenter-albany.com/events/
 | (518) 487-2000
  5/6 | Midtown Men, 4 Stars from the Original Cast of Jersey Boys
Troy Savings Bank Music Hall | 30 Second St., Troy, NY 12180
http://www.troymusichall.org/
 | (518) 273-0038 During their time in the mega-hit musical Jersey Boys, these four artists shared the stage for over a thousand performances. Now they are taking their own unique sound and chemistry on the road, singing the hits of The Beatles, The Beach Boys, The Jackson Five, The Mamas and The Papas, the Four Seasons and more!
[Please note: this event has been rescheduled for Oct. 9, 2011]
  5/7-5/8 | 
63rd Annual Tulip Festival
Washington Park, Albany, NY
http://www.albanyevents.org/
 | (518) 434-2032 Albany greets spring with thousands of tulips blooming in a myriad of colors and varieties to celebrate Albany's rich Dutch heritage. Entertainment on 4 stages, over 100 crafters, fine arts show, gardening talks, food vendors, & family fun!   5/12-5/22 | 
Guys and Dolls
Cohoes Music Hall | 58 Remsen St., Cohoes, NY 12047
http://www.cohoesmusichall.com/
 | (518) 237-5858 Nathan Detroit, the organizer of the oldest permanent floating crap game, bets Sky Masterson that he can't make the next girl he sees fall in love with him- this is Miss Sarah Brown of the Save-a-Soul Mission. Meanwhile, Nathan's cold girlfriend and the main attraction at the Hot Box nightclub - Miss Adelaide, only wants to get married. In the end the gamblers and "spunky do-gooders" are thrown together.   5/13-5/15 | 
Greek Festival
St. Sophia Greek Orthodox Church | 440 Whitehall Rd., Albany, NY 12208
http://stsophia.net/
 | (518) 489-4442 The 42nd Annual Greek Festival will have homemade Greek food, folk dancing, crafts and more!   5/14-5/15 | 
Heritage Weekend
Hudson River Valley National Heritage Area
http://www.heritageweekend.org/Home.aspx
 | (518) 473-3835 Kick off the tourist season with special events & discounted admission with a state-wide bang. There will be several Heritage Weekend events taking place in Albany including events at Schuyler Mansion, Ten Broeck Mansion, the Albany Heritage Area Visitors Center, Crailo State Historic Site, Albany Institute of History and Art, St. Peter's Episcopal Church and the Vanguard Designer Showhouse.  For more details on specific events, please visit the Heritage Weekend website.   5/19 | 
Frankie Valli and the Four Seasons
Palace Theatre Performing Arts Center | 19 Clinton Ave., Albany, NY 12207
http://www.palacealbany.com/
 | (518) 465-3334 Frankie Valli was catapulted into rock and roll stardom after his iconic American Bandstand performance of "Sherry" with The Four Seasons.  As a solo artist and with the Four Seasons, Valli has produced 19 top ten hits and sold over 100 million records world wide.   5/21 | 
ZZ Top with Lynyrd Skynyrd
Times Union Center | 51 S Pearl St., Albany, NY 12207
http://www.timesunioncenter-albany.com/
 | (518) 487-2000 The Rebels & Bandoleros Tour starring ZZ Top and Lynyrd Skynyrd launches this May, joining two of the most iconic bands in the history of American rock. The two groups, whose respective histories have been intertwined since the early 1970s, are set for a string of tour dates together starting May 12 in Wichita, KS and continuing for the next three weeks. The tour marks the first time in many years that these iconic standard-bearers of Southern Rock will have toured so extensively together.
###
For More Information:
www.albany.org
800-258-3582